ITG Diet Blog
The ITG Diet blog delivers informative weight loss tips, health resources and nutritional information to help you along your weight loss journey.
ITG Has You Covered for Turkey Day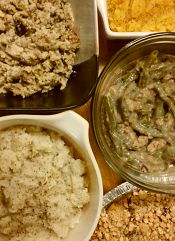 The holidays seem to arrive more and more quickly each year! If you are currently on the ITG Diet Plan and are wondering how you will survive this year's feast, look no further! Each of the recipes included below is a delicious alternative that you can enjoy while on all stages of the ITG Diet Plan. Let us know which are your favorites - and who knows, you may even fool some of your family and friends into enjoying some healthy side dishes with you!
So you are on Step 1 or 2 of the ITG Diet Plan, just in time for the holidays! Although it will take mental preparation to make it through this time of year, our coaches are here to help you survive and make it through without adding any pesky extra pounds. The typical Thanksgiving dinner always consists of turkey, so your protein intake is covered. Enjoy! But what about the mashed potatoes, gravy, cranberry sauce, pumpkin pie...the list goes on and on! Fortunately, we have several recipes that will help you stay compliant while on the program.
Last year, our ITG Wellness Coaches created a Turkey Day spread that included those healthy alternatives and we invited several local clients to taste-test our creations. We received some great feedback and almost all dieters loved our recipes, noting they would definitely help satisfy cravings for those typical holiday foods.
Some of our most popular recipes are listed below. With a bit of practice (and using some great seasonings!) you will fall in love with these alternatives which can also be enjoyed any time of year as part of your veggie intake. We actually fooled many people - they had no idea these recipes were veggie based and tasted very close to the real thing!
Holiday Recipes
Mashed "Potatoes" made from cauliflower as well as rutabaga, with salt, pepper and garlic to season.
Breadless Stuffing made out of cauliflower "rice", garlic, celery, mushrooms and seasonings.
Green Bean Casserole using the ITG Cream of Mushroom Soup as a substitute with crunched Sour Cream Zippers for a topping.
Pumpkin Meringue Tart which incorporates ITG Plain Pancake mix and ITG Very Vanilla Pudding along with several other ingredients - a perfect replacement for pumpkin pie!
Mock Cinnamon Baked "Apple" Crisp made from zucchini, Walden Farms Apple Butter and our new Vanilla Cinnamon O's crushed over the top.
Remember that while on program, eating too many carbs and sugars will kick your body out of its light state of ketosis, which will stall your weight loss for up to a week while you follow Step 1 very strictly. Don't let one holiday meal throw you off course when the alternatives can help you stick to your goal and continue to lose those pounds! Planning ahead is key, and experimenting in new and different ways with recipes in the kitchen will keep your diet fresh, interesting, and delicious!
If you have any recipe ideas or suggestions, please email them to joseph@itgdiet.com. You may even earn a special gift from ITG for a submission that is used in our ITG Recipe Section online!
Visit the ITG Recipe Section for many more recipes, for all Stages of the ITG Diet Plan and let us know if you have any questions or comments below!