Welcome to ITG!
The ITG Diet Plan is an easy to follow, 3-step nutrition program designed to get you into a light state of ketosis quickly and efficiently. By utilizing our higher protein meal replacements along with whole foods each day, you will finally achieve the results you so richly deserve!
It's all about science! The ITG Diet Plan isn't just another yo-yo diet plan with no end in sight for you. Our experienced team of coaches provide you with the necessary training to educate you on how the foods you eat react in your body, causing you to retain or lose weight. That's the ITG difference!
With the ITG Diet, you will lose weight and keep it off for two reasons. First, unlike many other diet programs out there, you'll shed fat instead of muscle mass. And second, our focus is on teaching you how to make better eating choices rather than simply eliminating fun foods from your diet forever. You can finally keep that extra weight off for life!
Are you always on the go? Do you travel for work? No time for a sit-down dinner? No worries! Almost all the products in our line of ITG Foods are airline- and travel-friendly. They can be prepared quickly and easily on the road if necessary. ITG Coaches will be there every step of the way to provide you with tips, education, and the support you need during your weight loss journey. You can even be our next Success Story!
Get Started Today! 
Are you looking for an ITG Clinic near you? We are always adding new clinic locations across the country.
You may even be eligible for our online program!
To connect with an ITG Specialist, please call us directly with your questions at 1-866-544-8444, Monday through Friday from 8:30 am to 6:00 pm Eastern Time.
If you are a medical professional or existing weight loss clinic and would like more information about offering the ITG Diet Plan to your patients, please click here or email laurel@itgdiet.com.
TRY ONE OF OUR BEST SELLERS TODAY!
DC Wellness Center
Clarkston, Washington

Dwyer Chiropractic Center opened its doors in 1999. The clinic has continued to grow over the years, adding an associate doctor in 2009. The practice expanded in size, adding more services such as massage and the ITG Diet Plan with wellness consultation rooms. They have now been in the new space for two years.
From Coach Jodi Dwyer: "Two years later and I can't imagine doing anything else! I love that I continue to see life changes in my clients every day, and love the confidence that I see growing in them as they become more successful in their journey to be happier and healthier! Being a product of this change myself, I know I have something to offer to my clients, which helps me continue to learn how to manage my weight for life and I get to pass that knowledge on to them!"
Along with weekly dieter appointments, Jodi started an "ITG Night Out" once a month where the coaches prepare different recipes with ITG Foods for their clients and get to know each other to create a support system for those who participate. DC Wellness has also paired with a local restaurant that offers a special ITG menu, specifically for dieters on the plan to help them stay compliant while losing weight. They also joined forces with a local infused oil business in Clarkston to offer a night of cooking for clients to experience.
Pictured below is Jodi and her husband Dr. Charles Dwyer in 2014. She was introduced to ITG in July 2014 and began her weight loss journey, losing over 70 pounds to date! She looks forward to meeting more wonderful people and taking part in their healthy lifestyle change at DC Wellness Center.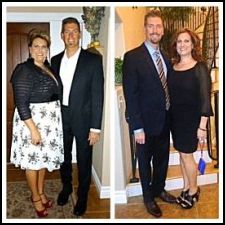 Jodi Dwyer & Dr. Charles Dwyer