About ITG
ITG Diet has one focus… to help people get healthy by controlling their weight.  We don't use gimmicks and fads.  We don't tell people they can eat cookies or special juice or take drugs or to sprinkle dust on their food.  Quick fix programs just don't work in the long term.
Weight control is an intimate issue for most of us.  We all have unique metabolisms, we all have our own tastes in foods, we all have our own activity level and we're all subjected to a lot of hype in the marketplace.  At ITG, we skip the hype and get down to the science.
ITG Diet is a simple, science-based weight control program that focuses on education.  We won't give you false hopes and we won't sell you any magic products.  We'll give you the tools, we'll coach you, we'll work with your special circumstances and we'll show you how to control your weight and then stay healthy.  And all of this is backed up with science, not hype.
ITG Diet is owned by the Beatty family, which has been in the medical industry for many years.  In 2005 they wanted to find a better weight control plan for their medical clinic.  They found the right path with the help of Dr. John DeCosmo, who became ITG's medical director in 2008.  The secret is using a ketogenic program that burns fat… that's right, fat!
 ITG Diet Plan Highlights:
Spares muscle mass and burns fat quickly and safely
Targets prevention and solutions for Metabolic Syndrome
Stabilizes insulin production.  Great for Type 2 Diabetics
All dieters are assigned a real, live personal coach
FDA label approved delicious protein foods
We have many Kosher, Gluten-free and Soy-free foods



The ITG weight loss method takes a holistic approach to treating inner and outer health.  ITG products are used primarily to get you healthy.  In fact, we often claim that weight loss is simply a byproduct of this healthy eating.  
About Laurel Beatty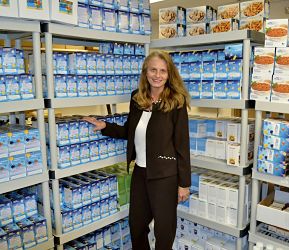 Laurel began her focus in the medical industry in 2001, building and selling software to medical clinics.   After selling that company in 2005 Laurel and her husband, Mike, purchased and operated the largest integrative medical clinic in the state of Florida. 
In 2006, the Beattys brought a popular ketonic body program into their medical clinic.  Laurel was the test subject to participate in the program and lost 20 pounds in 60 days, and kept it off. In that same year, Laurel worked with a team of other consultants to bring a new protein product line into the United States including the development of their sales force.  Laurel was instrumental in developing weight control collateral materials from the dieter level to the coach level to the clinic level. 
Building on Dr. DeCosmo's weight loss plans the program now utilizes ITG protein foods along with customized supplements for a simpler 3 Step Weight Loss Plan.  Dieters enjoy the new variety of products and find the new program easy to follow.   It is very satisfying to be able to continue to help improve people's health and quality of life.   See entire Bio.
About Dr. John DeCosmo                                                                                                                                  
John DeCosmo, D.O. has been in practice since 1988 as an Osteopathic Physician and is Board Certified in Family Practice, however, he's focused his career on functional medicine and nutrition, with a particular emphasis on the treatment of metabolic syndrome, especially obesity. ITG delivers Dr. DeCosmo's program directly to the homes of the dieter. See entire Bio.
Meet the ITG Staff
Joseph Packo
Operations Director & Wellness Coach - ITG Diet
Certified Personal Trainer, National Academy of Sports Medicine
Joseph is the Operations Director for ITG Diet and also manages Slim Down St Pete, ITG's local flagship clinic. He is dedicated to helping ITG Dieters reach their goals with coaching through all Steps of the program. He also services ITG Diet Clinic coaches and owners across the United States with their day-to-day operations. He personally lost over 80 pounds and 10 inches from the waist on the ITG Diet Plan. Joe writes articles and blogs for the ITG website. Click here to Follow his ITG Blog.
ITG will get you started and then coach you for ideal success. If you aren't already on the ITG plan please contact us to find out more today!