You can view the cart after login
Welcome to the ITG Shop
 Please visit the ground shipping map HERE to estimate transit time
Click on individual product names to find nutritional information
All ITG products are made with high quality ingredients in order to help you achieve balance for your health and weight loss goals. Enjoy a wide range of foods and drinks, from Ready to Drink Shakes to Protein Bars and Snacks!
View ITG Ordering Tips & Shipping Transit Time Map
Categories
Drinks / Fruit Juice

Shake / Smoothie Bottles

Breakfast / Cereal / Eggs / Bread

Pudding / Shake Mixes

Lunch / Soups / Entrées

Snacks / Crisps

ITG Diet Supplements

Survive & Thrive Supplements

Misc. / Condiments

The Inner Diet

ITG Diet 14-Day Starter Kit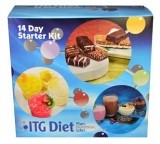 Walden Farms Condiments

Close Outs / Specials

Check back soon to see the exciting new ITG products we have to offer.
You can view the cart after login