ITG Diet Blog
The ITG Diet blog delivers informative weight loss tips, health resources and nutritional information to help you along your weight loss journey.
Pregnancy and Post-Partum Perspective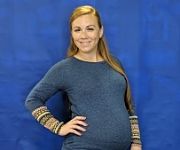 Hey, it's Kaitlin, one of your ITG Coaches! As of today, I am 35 weeks and 2 days pregnant! I am beyond excited to be welcoming my son into this world in just a few short weeks. While I am eager to finally hold my little guy, I am also eager to get my pre-pregnancy body back!
Working for ITG, I know how important proper diet and nutrition are. I also felt it was extremely important for me to be a good role model for the dieters that I coach online and see face to face at Slim Down St Pete. Right away I looked up the recommended healthy amount of weight gain during pregnancy and told myself that I would not exceed that number.
The first and second trimesters I remember thinking this pregnancy stuff is easy! I can see why women love being pregnant, but I couldn't understand why so many women gain way more weight than they should. I thought of the typical excuse that I have heard from a few of my friends and even my sisters (sorry ladies, I am calling you out), "I am pregnant, and I am eating for two"! No, you are not… you are eating for one, while needing vitamins and nutrients for two. Pregnant women do not need any additional calories during their first trimester, only about 340 calories per day extra in the second and about 450 additional in the third trimester. An outline was given to me at my first pregnancy doctor's appointment that said I needed fruits and vegetables (approximately 5-10 tennis ball size servings a day), lean protein, whole grains such as whole-wheat pasta, bread and brown rice as well as 3-4 servings of dairy a day. My body hadn't consumed much fruit, whole grains or even dairy in quite some time as I had been following Step 3 of the ITG Diet plan for many months.
My pre-pregnancy weight was 115 pounds with a BMI of 19.7. I had tons of energy and had been very active. I have continued to be very active at work and my home life up until recently as my energy level has been decreasing and my weight gain has been increasing, which seems at a pace that is too quick to keep up with. I know that weight gain has not been entirely my fault since my body is doing what it needs to do for my baby (retaining water and gaining weight). With that being said, I admit that I have gained about 50 pounds! That is the recommended amount of weight gain if I were carrying twins! By the time I deliver, I am sure it will be more. But who knows, maybe my weight would be more had I not worked for ITG and had the knowledge of food and science of nutrition like I do.
The recommended pregnancy weight gain according to the CDC for carrying one baby is:
| | |
| --- | --- |
| If before pregnancy, you were… | You should gain… |
| Underweight- BMI less than 18.5 | 28-40 pounds |
| Normal Weight- BMI 18.5-24.9 | 25-35 pounds |
| Overweight- BMI 25.0-29.9 | 15-25 pounds |
| Obese- BMI greater than or equal to 30.0 | 11-20 pounds |
I am feeling all kinds of symptoms of being "overweight". I know what you are thinking as you read this: "You are not overweight, you're pregnant!" However, for the first time in my life I am understanding what it feels like to be overweight, emotionally and physically. I see pictures around the house and almost don't recognize the woman in those family photos. I know hormones also play a role in all of this, but when you are overweight, your hormones tend to be thrown out of whack anyways. My legs and feet are experiencing edema, I have been wearing compression socks with slip on sandals. Fortunately for me I am in Florida and sandals are acceptable all year round, but not with compression socks! I even went into the store the other day with house slippers on because that is pretty much all that my feet fit into. My body hurts, from my neck (because I have to sleep sitting up), to my back and hips (which I know are aches that are fully pregnancy related and I am not complaining about those). The one pain that I know I can relate to being overweight is the pain of my knees, ankles and feet… and especially my feet! My body is not used to having 50 pounds of extra weight and I see how that can really have an effect on your body and how you feel if you carry extra weight for years!
I feel very fortunate to not have had any crazy cravings like pickles with peanut butter, or ice cream every day. My only real cravings have been for kale salads, which I guess does sound a little crazy to some people! Even with my healthier cravings I have not been a perfect eater throughout my pregnancy. As I get closer to my due date it has become more difficult to cook family meals because my mind and body are exhausted, and let's face it - ordering take out is convenient – so I have had a few less healthy choices, but I have been minimizing that throughout my pregnancy.
To all the ladies out there: whether you are currently pregnant, recently gave birth to your sweet baby, or even if it was several years ago and you are still struggling with losing that baby weight, I am here to tell you… YOU ARE NOT ALONE! I will be detailing my weight loss over the next several months of what I do after my baby is born, while I am nursing and once I am able to jump back on the ITG Diet Plan. Join me in this post-partum weight loss journey and let's lose our baby weight together! Contact your ITG Coach today to see what you can do to get started.
Important note: you should not be on a ketogenic diet while pregnant or nursing. Please talk to your doctor before starting any weight loss program.
Source: https://www.cdc.gov/reproductivehealth/maternalinfanthealth/pregnancy-weight-gain.htm