ITG Diet Blog
The ITG Diet blog delivers informative weight loss tips, health resources and nutritional information to help you along your weight loss journey.
Time for a Taste of Fall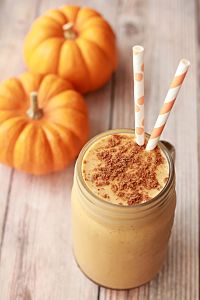 Bring a taste of the fall season to your day by adding Pumpkin Spice! Get creative with your coffees and protein drinks by adding a dash of flavor. You can also use cinnamon, nutmeg, and other seasonings for delicious beverages without all the sugar.
We checked out the menus of some of the most popular coffee chains in the US. If you want one of their pumpkin flavored specialty drinks, be prepared to get a massive dose of sugar in your system!
The amount of sugar is definitely an eye-opener! Scroll down to find some ITG recipes that will help you celebrate Fall with pumpkin spice, but without all those carbs and calories.
Dunkin' Donuts Pumpkin Swirl Frozen Coffee with Whole Milk - Large
194 grams total carbs
185 grams of sugar
930 calories
Starbucks Pumpkin Spice Creme - Venti
65 grams total carbs
65 grams of sugar
480 calories
Caribou Coffee Pumpkin Pie Latte - Large
91 grams total carbs
86 grams of sugar
510 calories
Avoid all that sugar and fix your own! You can even make your coffee into a breakfast meal by using an ITG protein. Use a packet of Very Vanilla Shake Mix, Vanilla Complete or Vanilla RTD. Add a couple dashes of pumpkin spice seasoning to flavor to your liking. Use ice cubes for a frozen version. Or use ITG Chai Tea, Cappuccino, or Marshmallow Hot Chocolate with pumpkin spice instead of coffee.
ITG Creamy Pumpkin Spice Coffee for Breakfast
8 ounces or more of coffee
1 Vanilla Complete Shake
1-3 dashes of pumpkin spice (more or less for your liking)
Stir well. Add ice and blend if you'd like a frozen pumpkin coffee smoothie.
Nutrition:
4 grams total carbs
1 gram of sugar
110 calories
More Pumpkin Flavor
ITG Creamy Pumpkin Spice Smoothie - recipe for Chai Tea or Cappuccino