ITG Diet Blog
The ITG Diet blog delivers informative weight loss tips, health resources and nutritional information to help you along your weight loss journey.
Survive Those Hunger Pangs!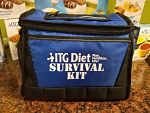 Are you new to ITG? Feeling extra hungry in the first few weeks? Have you been on the program for a while and have a rough few days of cravings here and there? Whether you're on Step 1, 2 or 3 of the ITG Diet, have no fear - we're here to help you stick to your plan and reach your health and weight loss goals and stay there! We have tons of helpful tips and tricks to help you beat those hunger pangs that seem to come with weight loss territory. You definitely should not have to starve in order to lose weight, so read on to learn more about creating your very own ITG Survival Kit. Help rid yourself of those hunger pangs and stay successful on your plan to reach your goals quickly and efficiently!
When you start off with Step 1 of the ITG Diet Plan, you are cutting back on carbohydrate and sugar intake which causes you to feel hungrier than normal, initially. Remember, this is just the result of sugar withdrawal. Your body needs this time to get adjusted to running off your stored body fat for energy rather than the sugars that you consume. Those sugar cause highs and lows, and you can feel them. With ITG's modified ketogenic diet, you will have the energy you need to sustain your activities throughout the day without those crashes! After a few weeks of adjusting, your body and mind will adjust to the lower carbs and calories. Your hunger cravings should go away, as a ketogenic diet naturally satiates hunger. Do, however, feel free on any Step of the diet plan to utilize your Survival Kit and make it through another day.
If you've always enjoyed some mid-day or late-night snacking to help you get through your days in the past, you can still snack with ITG. You will just replace those snacks and use some of our suggestions listed below to create your very own ITG Survival Kit. Get an insulated lunch box or cooler, fill with the items below (or any items from the approved foods list) and feel guilt-free about eating anything contained in your box when you feel those cravings coming on. ITG also offers a helpful supplement called Crave Away which helps curb those cravings. Crave Away helps by allowing your body to produce dopamine, the feel-good reward hormone, which can give your brain and body the signal that you don't need food to give you that same rewarding feeling.
Take your ITG Survival Kit everywhere you go, every single day: to work, school, or on the road - but don't ever forget it at home! Once your ITG Survival Kit is empty, simply add more items to refill it and stay hunger-pang free all the way to your goal weight!
Bottled Water - freeze overnight and place in your ITG Survival Box to keep everything chilled. Once it melts, drink it! Remember, 64 ounces per day is the minimum water intake. For higher body weights, add more water to help your healthy hydration levels.
Pickles - snack sized packs are available at the grocery store or you can use dill pickle chips and spears. Do not eat Bread & Butter Chips (they contain a lot of sugar) and be mindful of the sodium that pickles contain. Don't overdo it! 1-2 pickles per day.
Hard Boiled Eggs - enjoy up to 2 per day and add sea salt for flavor and to retain some of the water you've been drinking.
Sliced Deli Meat - make sure it is lean, low fat, and is not a fatty "mixed meat" such as pepperoni, salami, sausage or if it contains high sodium such as prosciutto. Boar's Head London Broil or sliced chicken and turkey are great for this, as well as low-fat, low-carb Oscar Meyer deli slices. Wrap lunch meat around a pickle spear or cucumber slice for extra crunch, and count those toward your vegetable intake for the day!
Sliced Leftover Protein - cook extra chicken, pork, fish or another of your favorite lean proteins and take slices of it with you in your ITG Survival Kit the next day. Add the meat to your salads, ITG Soups or Entrees and stay fuller for longer! A little protein goes a long way compared to sugary and carb-filled foods. Stick with 3-4 ounces of additional protein per day. Men can always have the additional protein, and women over 200 pounds can have extra protein until they get under 200 pounds. The extra protein can then be eliminated, but feel free to add some whenever hunger pangs kick in.
Sliced Vegetables - prep and prepare vegetables to snack on all day long! Measure out your portions at home in advance when cooking dinner and place containers of vegetables in your Survival Kit for the next day. Count these toward your daily vegetable intake. Don't forget the dip! Bring ITG Creamy Dijon Dressing for dipping!
Salad Mix - bags of lettuce mix or greens don't count toward your vegetable intake, but whenever you're hungry, have some salad. The action of crunching salad for a little while gives your brain a signal that you're getting full. Salad is unlimited, so enjoy with a responsible amount of dressing or use apple cider vinegar for a dash of flavor. You can also use a bit of olive oil, rice vinegar, white vinegar or Walden Farms dressing of your choice. Stow them in your Survival Kit and stay prepared!
ITG Drinks - bring along your ITG Blender Bottle and put a packet of ITG Shake Mix, Fruit Drink Mix or an ITG Shake Bottle Flavor (chocolate, vanilla, coffee and more) for some protein on the go as needed, just add water from wherever you may be. If you don't drink your shake, save it for the next day! Stash packets of ITG Drink packets in your purse, briefcase, glove compartment in your car, or your desk drawer at work and never go hungry.
ITG Snacks - add a packet of ITG Cereal, crunchy White Cheddar or BBQ Crisps, Protein Pretzel Twists or an ITG Bar for crunchy, savory and sweet snacks that you might want to enjoy during your day. Remember, some of the ITG Snacks are Limited to once per day, so only take one of those with you per day to avoid eating both!
Listerine Strips - use one of these after a meal for fresh breath. You can also bring along a toothbrush, toothpaste or mouthwash for that minty fresh taste and feeling. When your mouth tastes minty fresh, you will feel less inclined to snack on more food.
Leave a comment with your own tips and tricks to getting rid of those pesky hunger pangs, and let us know how your ITG Survival Kit has been working for you! What are some of your favorites to take along?