ITG Diet Blog
The ITG Diet blog delivers informative weight loss tips, health resources and nutritional information to help you along your weight loss journey.
Short on Time? Making Healthy Choices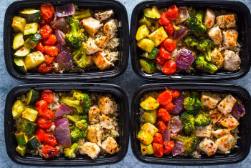 Sometimes it seems that there just isn't enough time at the end of the day to sit down and enjoy a healthy, home-cooked meal. There's the planning, shopping, prepping, and cooking – all of that can end up taking a lot of time to accomplish. If you've got a busy schedule and can't always find the time to cook a healthy meal, you may have turned to a meal delivery service, or ordered take-out from a restaurant. You're trying to stick with healthy choices but are these options going to help, or hurt, your progress?
Meal Delivery Services
It's convenient to have prepared meals delivered direct to your door, but are they healthy? Some are packaged as raw ingredients, allowing you to cook everything yourself. Others simply need reheated and served. If you are working on weight loss, many delivered meals can be full of ingredients that will keep you from dropping those pounds.
Make sure to read the nutrition information for each meal. Many food delivery companies will slap the word "keto" on an entrée and you might be led to believe that it will work while on the program. However, these foods might just be lower carb than alternative choices. Some of the healthiest prepped meals we've seen can contain 30 or more grams of carbohydrates. They may also contain high fat and loads of sodium. Some of the packages may look like one meal but are actually two servings. If you eat the entire meal, you'll be eating a dinner for two.
Meal delivery can be a good option when it comes to Step 3 of the program, Maintenance, but will likely hurt your progress while you're still trying to lose weight in Step 1. You need to take a look at the nutrition facts and make sure you aren't overdoing it with carbs and fat. If you have questions about your meal delivery nutrition facts, get in touch with your Coach who can help you analyze them.
Restaurant Take-Out
Restaurants are in the business of making the best tasting food; they aren't necessarily concerned with how healthy their dishes are. Even the healthiest dishes can be deceiving and are usually processed or saturated with other ingredients. Proteins and vegetables are usually cooked with fat, carbs and sodium that end up making them unhealthy. Healthy versions of the same foods can be cooked at home and would be just as delicious by adding your own spices and seasonings.
If you must order from a restaurant, stick with lean proteins, vegetable sides, or salads with protein on top. Avoid dressings, croutons, cheeses, nuts, and fruits. Ask if the cook can leave out butter or sauces and opt for steamed vegetables if they are able to. Ask for nutrition information to see more detail about the foods they serve (restaurants that have 20 or more locations are required to provide this). Make use of the ITG Restaurant Guide. We recommend avoiding restaurant foods while in Step 1 since there are a lot of hidden ingredients that can cause your weight loss to stall.
The Solution: Bulk Cooking at Home
Your best bet if you're short on time in the kitchen is to get most of your planning and prep work done in a single day so that you'll have several days' worth of meals ready to heat on demand. To save even more time, have your groceries delivered. This helps with planning ahead for the week, eliminating impulse buys, and avoiding temptation as you walk the aisles. You'll still need to put in a little bit of time and effort, but it will save you tons of time throughout the rest of the week.