ITG Diet Blog
The ITG Diet blog delivers informative weight loss tips, health resources and nutritional information to help you along your weight loss journey.
The Soy Controversy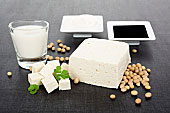 Soy based food products have attracted some controversy. There are past claims that soy protein is responsible for decreases in testosterone or that estrogen induces man breasts, and even that eating soy can cause cancer. Most of this has been debunked yet there are always some pros and cons involved in any protein conversation. Now that we've had the chance to analyze these claims it's clear that soy protein is a good choice for weight loss and muscle growth.
The AHRQ concludes there is no evidence of a negative effect for either soy protein or isoflavones. Soy products range from whole soy to fermented soy to the protein isolates which ITG uses and are in the group referenced positively by the AHRQ.
Soybeans were added to the American diet in various forms in the 1880s and today they're used in countless food products around the world. In the USA it's hard to go a day without eating a soy product, just because of its abundance.
Soy protein is of the highest quality as emphasized by the FDA and WHO analyses, claiming that soy protein isolate receives a rating of 1, the highest score a protein can receive. So the quality of soy protein is equal to that of meat and milk.
Whey is another popular protein source. The Solae Company conducted an intense study on whey versus soy protein and proved that both protein sources resulted in increasing lean body mass. There was no discernable difference between these two protein sources regarding testosterone levels.
Supplementing with soy protein may also provide health benefits such as a reduced risk of coronary heart disease or may even reduce the risk of certain kinds of cancer. Some studies show that soy protein can help combat free radical formation. Few products contain as many good attributes as soy does.
Regarding the claim that soy protein might cause increases in estrogen in males. There simply isn't evidence that a healthy diet including soy products will cause a man to grow breasts. On the contrary, research has shown soy protein benefits cardiovascular health. There are even more studies claiming that soy reduces inflammation.
Soy has a large following and is a daily part of most of our diets. The question of whether soy is good for you or not has been a tricky one for the medical communities. So it's important to note that history and medical studies have shown repeatedly that soy is a great source of protein while its naysayers have failed to make a convincing case against it.
There is ample evidence supporting the benefits of soy protein from a long list from accredited sources. So remember that while nearly all foods we consume have both good attributes and bad attributes, let's keep in mind that soy has a proven track record that far outweighs the weaker claims against it.