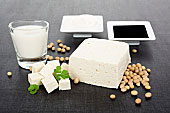 Soy based food products have attracted some controversy. There are past claims that soy protein is responsible for decreases in testosterone or that estrogen induces man breasts, and even that eating soy can cause cancer. Most of this has been debunked yet there are always some pros and cons involved in any protein conversation. Now that we've had the chance to analyze these claims it's clear that soy protein is a good choice for weight loss and muscle growth.
The AHRQ concludes there is no evidence of a negative effect for either soy protein or isoflavones. Soy products range from whole soy to fermented soy to the protein isolates which ITG uses and are in the group referenced positively by the AHRQ.
Soybeans were added to the American diet in various forms in the 1880s and today they're used in countless food products around the world. In the USA it's hard to go a day without eating a soy product, just because of its abundance.
Continue reading