ITG Diet Blog
The ITG Diet blog delivers informative weight loss tips, health resources and nutritional information to help you along your weight loss journey.
Selenium Helps Form New Neural Connections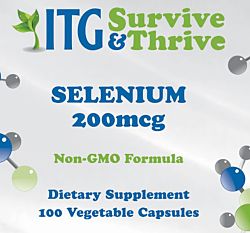 Selenium is a trace mineral that is found in small amounts in nuts, meats, and some vegetables. Trace minerals such as selenium are needed for many of the body's processes, including proper muscle development, cell maintenance, immune system responses, and thyroid hormone metabolism.
Recent research has shown that selenium may also help form new neural connections (neurogenesis) in the brain that help with cognitive decline, as well as reversing the effects of brain injury in stroke and Alzheimer's patients. A study of selenium, in the form of selenemethionine, was added to a dish of cells that would ultimately produce new neuron cells. After two weeks, the number of the neuron precursor cells doubled. When the study was applied to mice, the number of those neural precursor cells tripled in the hippocampus. The hippocampus is located in the brain and plays a major role in memory and learning.
During exercise, the body uses selenium to produce a protein called Selenoprotein P (SEPP1) which has been found to transport selenium directly to the brain. As the body ages and isn't exercised as frequently, the production of SEPP1 declines and may be one of the major factors of cognitive decline associated with aging. Researches are excited at the possibility of new therapies in the near future using selenium to help repair brain function in humans. In the meantime, selenium is widely available as a supplement in restrictive diets which can help the body and the brain receive the necessary amounts of the trace mineral to boost brain function, health, and aid memory.
ITG Survive & Thrive Selenium (once daily) contains 200 mcg in the form of L-selenemethionine which is the same form used to stimulate the growth of neurons in the lab study.