ITG Diet Blog
The ITG Diet blog delivers informative weight loss tips, health resources and nutritional information to help you along your weight loss journey.
ITG Is Proud to Sponsor Run Across America!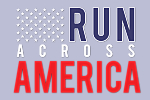 What does the age of 50 look like to you? Darren Kavinoky will show you! Darren is a highly regarded keynote speaker, TV host, author, criminal behavior expert, trial attorney, and on-air legal analyst. He created the television show Deadly Sins and has appeared on many other television and radio shows over the years where he reports on legal, political, and pop culture issues.
Today, Darren is beginning his 2,451-mile run from Los Angeles to New York City to bring awareness to health and wellness related issues and causes. ITG Diet is proud to be a sponsor of his epic Run Across America! Along Darren's journey, he will be making several stops to meet with celebrities who will join the run as well as city and state officials to discuss those causes. Darren dreamed of running across the country as a child and is finally making it a reality. He grew up as a "chubby kid" to a young adult who struggled with addiction. Today, he has committed himself to extreme workouts and triathlons, and to being the new face of 50. "This is a big undertaking," Kavinoky said. "I've always said, 'You go through life as an example or a warning.'"
Darren will definitely be setting a fine example of health and wellness from coast to coast. ITG Diet has partnered with Run Across America and What's My Win? in an effort to spread the word about getting healthier, one pound at a time! "A win is a very personal thing," he explained. "For me, it may be running across America. For someone else, it may be walking down their driveway and back. It doesn't matter. The idea isn't that anyone needs to be better than someone else. It's just being better today than they were yesterday."
ITG Diet will also be supplying plenty of protein-packed ITG Chocolate, Vanilla, and Coffee Shake Bottles for the cross-country haul. The journey is set to begin today, Friday April 21st, on the Dr. Phil Show; check your local listings for broadcast time.
Stay tuned right here in the ITG Diet Blog for more updates on Darren's coast-to-coast progress! Visit What's My Win? to spin the sweepstakes wheel for many great prizes from several different sponsors, including several 14-Day Starter Kits including 3 months of free coaching from ITG! Use the hashtag #whatsmywin on Twitter and Facebook to post your daily wins, whether it's losing a pound, skipping the sweets, or getting all your water and veggies in for the day! Mention @ITGDiet in your post on Twitter so we can see your successes!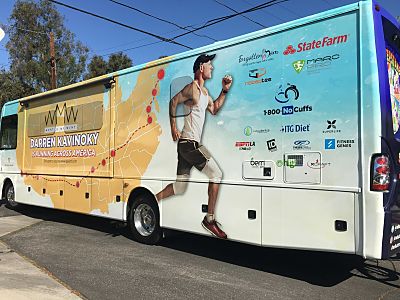 The What's My Win / Run Across America Tour Bus