ITG Diet Blog
The ITG Diet blog delivers informative weight loss tips, health resources and nutritional information to help you along your weight loss journey.
Extra Tips for Success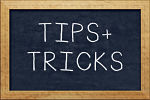 You're starting the ITG Diet, or have been on it for a little while. You're learning something new about foods, nutrition, and how your body reacts to the foods you eat by gaining, maintaining, or losing weight. You can really feel when you have a bad day, and you know when you're doing well because the clothes get looser and your energy levels increase.
There are many tips and tricks that we teach during the initial consultation for new ITG dieters. Some may become new habits for life, and others will be helpful ways to combat hunger, help you stop yourself from overeating, and general tips to stay successful while on all Steps of the ITG Diet Plan.
Here are a few of my favorite tips that have helped me, and hopefully they can also help keep you on track to reaching your goal as quickly and efficiently as possible. Be sure to read our full list of tips and tricks for success in your ITG Dieter Folder documentation as well as at the end of this blog.
One of the simplest tips that helped me the most was to eat a meal, and THEN go to the grocery store! Shopping when I was hungry was a challenge. Even when I was staying strict, it was very difficult to be focused in the grocery store when walking down the aisles with a rumbling stomach. This leads me to another tip: stay away from the inner aisles of the grocery store! The outside of the stores typically consist of whole foods: fruits, vegetables, deli meats, beef/poultry/pork, and dairy/eggs. As soon as you enter the middle of the store, those delicious looking pictures and packaging surround you and will entice you to buy. If you're full from a meal, you will be more likely to skip over these processed sugary foods.
When cooking, steam your vegetables on the stove or in the microwave. This cooks them evenly and without all the extra fat or oil that is often needed in a saute pan. After steaming, add seasonings of your choice and know that you have cut back on your fat intake. Remember, while on the ITG Diet, if you eat too much fat you will not burn as much stored body fat and this will slow down the weight loss process. Try cooking thinly sliced vegetables in the oven at 300 degrees to make crispy "chips" instead of frying in oil.
When eating a meal, your surroundings are very important. If you sit at your desk, in front of the computer or television, or read the newspaper while eating, you will tend to eat your food mindlessly and will not feel as full. This can lead to second portions and overeating. Put the phone on silent, turn off the tv, talk to a friend or family member or simply enjoy your delicious and nutritious meal. Eat those meals while sitting at the kitchen or dining room table instead of a comfy place, like the couch. This associates relaxation with food, which are both rewards and can lead to overeating. Standing or walking while eating will also tend to make you want to eat more than needed.
One of my favorites: Don't get in the habit of wearing clothes made with elastic! Clothes that can stretch with weight gain will feel comfortable and won't give you the hint that your clothes are getting a little tight. Don't buy larger sized clothes - if they start to get too tight, re-evaluate your eating behaviors and make an adjustment to rid yourself of the extra fluff!
Continue reading the full list of Extra Tips and Tricks in the ITG Article Section.