ITG Diet Blog
The ITG Diet blog delivers informative weight loss tips, health resources and nutritional information to help you along your weight loss journey.
Celiac Disease Awareness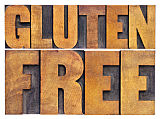 So many people suffer from gluten intolerance and we realize that making gluten-free food choices is very important for many of dieters.
Did you know that May was Celiac Disease Awareness Month? Here at ITG Diet we would like to be proactive and help our dieters who are sensitive to gluten make the right choices and make it easier for you while on The ITG Diet Plan.
We have breakfast, lunch and snack foods. You have over 38 delicious gluten-free products to choose from.
You can download our nutritional fact sheet here which clearly marks the Gluten Free foods.
There is more great information online such as the allergen matrix and the kosher food list.
Look for this gluten free symbol in our shopping cart online to easily pick out the products for you.
Gluten intolerance is not the end of the road for our dieters that want to do The ITG Diet Plan.
At ITG Diet, we are devoted to helping dieters in their journey to making healthy habits and having gluten-free food options.