ITG Diet Blog
The ITG Diet blog delivers informative weight loss tips, health resources and nutritional information to help you along your weight loss journey.
Boost Your Natural Immunity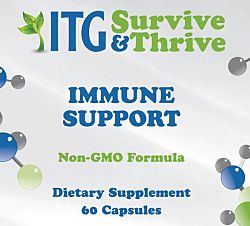 Cold and flu season is upon us once again as we enter the fall and winter months ahead. Eating a healthy, balanced diet and incorporating proper exercise can help keep the body in top shape in order to fend off a virus or bacteria that can cause illness. "You can take all the supplements in the world to improve your immune system, and they may help, but if you don't address your lifestyle, you likely will not make any real change," says Dr. DeCosmo, Chief Medical Officer for ITG.
If you've incorporated healthy eating and regular exercise into your lifestyle, you may still be wondering if you have any nutrient deficiencies.
Your doctor will be able to let you know by conducting a blood test. Tests for iron, vitamin D, vitamin B12, calcium and magnesium are the most common nutrient deficiencies for Americans. By modifying your diet or supplementing it, you can correct those deficiencies and reach optimal health.
Now you can give your immune system a boost by adding Survive & Thrive's Immune Support supplement.
Immune Support contains many vitamins and minerals you need to support your immune system, all in one capsule. Vitamin C, Vitamin E, Selenium, Turmeric Rhizome Powder, Panax Ginseng Root Powder, Lycopene, Quercetin, and many more beneficial ingredients are also provided within each capsule.
Read more about what S&T Immune Support contains here.