ITG Diet Blog
The ITG Diet blog delivers informative weight loss tips, health resources and nutritional information to help you along your weight loss journey.
Supporting Your Body's Immune Function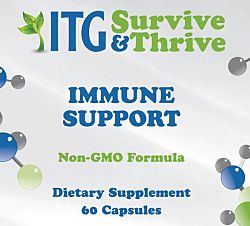 There are many foods you can eat that will help you obtain the vitamins, minerals, and nutrients that are needed to protect and boost your immune system function. As more of the world opens up these days, it's important to make sure your body has the protection it needs, especially if you have not been in many social settings throughout the past couple years of the pandemic.
What are some great supplements that will help boost your immunity and help prevent illness?
Vitamin C - a very popular supplement due to its antioxidant properties. Vitamin C helps maintain healthy tissue and helps the body absorb iron. Your body needs it to form blood vessels, cartilage, muscle, and collagen. It also sequesters free radicals in the body. The structure of vitamin C allows it to act on the body's neurology and can help with depression, as well as interact with the pancreas and modulate cortisol and stress levels. The antioxidant properties of vitamin C help provide neuroprotective effects and benefits for blood flow.
Immune Support - This all-in-one supplement from Survive & Thrive contains many of the vitamins and nutrients you need to support your immune system function, all in one product. Vitamin C, Vitamin E, Selenium, Graviola Leaf Powder, Raspberry Fruit Powder, Green Tea Leaf, Turmeric Rhizome Powder, Beta-glucans Powder, Cat's Claw Powder, Garlic Bulb Powder, Panax Ginseng Root Powder, Lycopene, Quercetin, Pine Bark, Grape Seed, Pomegranate, Herbal Complex, Mushroom Complex, and Olive Leaf.
Melatonin - Irregular sleep patters are associated with a wide variety of health problems and premature aging. It is the hormone used by your body to help you fall asleep and maintain regular sleep patterns. Sleep is crucial for the body to repair and heal itself after the day, as well as to help with immune system function. People who engage in shift work, or are jet-lagged, can benefit especially if they have a hard to falling and staying asleep. Melatonin also has several anti-cancer properties and is being investigated for its role in fighting breast cancer. It can potentially stop your body from gaining fat, along with diet and physical activity. Sleep is important for weight loss, eye health, may possibly reduce tinnitus, and improves mood by helping you get better sleep.
Find these and more Survive & Thrive Supplements in the Shop to help defend your health!
Note: These products are not recommended for pregnant or nursing mothers, or children under 18 or anyone with underlying medical conditions. Please check with your primary care physician before use.