ITG Recipes for Steps 1-3
Feel free to enjoy the recipes here that can be used on the ITG Diet Plan.  One of our coaches has looked at, approved and most of the time has cooked the recipes we are sharing here.  We did not invent all of these recipes and will try to credit the author when provided.  Plan accordingly depending on the step of the plan you are on.  If you have a recipe you would like to share please send it to us!
Want to keep a list of your favorite ITG recipes handy? Logged in users can click the heart

next to the recipes that you love and then return later to view them again in your favorites list here.
'Not' Potato Salad
For All Stages of the ITG Diet Plan
Difficulty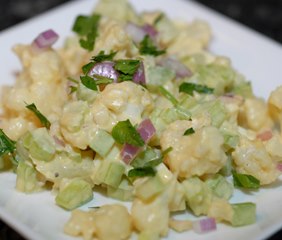 Ingredients
For 4 people (




)
Recipe
1

Head Cauliflower

2

Stalks Celery (diced)

0.25

Yellow Onion (finely chopped)

1

tablespoon(s)

Fresh Parsley (finely chopped)

2

Hard Boiled Eggs (diced)

2

tablespoon(s)

Walden Amazin Mayo

2

tablespoon(s)

Dijon Mustard

0.5

teaspoon(s)

Sea Salt
'Not' Potato Salad Directions
Add 1 inch of water to the bottom of a medium pot (with lid). Insert steamer basket and fill with chopped cauliflower. Cover.

Steam cauliflower on the stove top over medium-high heat until slightly tender, about 10 minutes after water begins to simmer (overcooking will develop a stronger "cauliflower" smell, and a mushy texture).

Drain cauliflower and rinse with cold water to cool immediately. Place in a large bowl

Add celery, onion, parsley, and egg.

Stir in mayonnaise, Dijon mustard, and sea salt (if desired).

Serve immediately or store in refrigerator.
Your comments on this recipe (
0

)