ITG Recipes for Steps 1-3
Feel free to enjoy the recipes here that can be used on the ITG Diet Plan.  One of our coaches has looked at, approved and most of the time has cooked the recipes we are sharing here.  We did not invent all of these recipes and will try to credit the author when provided.  Plan accordingly depending on the step of the plan you are on.  If you have a recipe you would like to share please send it to us!
Want to keep a list of your favorite ITG recipes handy? Logged in users can click the heart

next to the recipes that you love and then return later to view them again in your favorites list here.
Cauliflower Tortillas
For All Stages of the ITG Diet Plan
Difficulty




Category:
Main Dishes
, Vegetable Dishes
-
Rating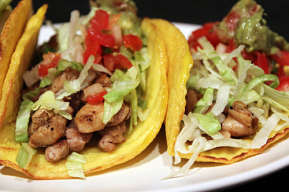 Ingredients
For 2 people (


)
Recipe
1

Medium Head of Cauliflower

3

Eggs or 4 Egg Whites

1

pinch(es)

Sea Salt/Black Pepper (to taste)
Cauliflower Tortillas Directions
Preheat oven to 375 degrees. 

Use a food processor, blender, or hand grater to grate the cauliflower into a crumb-like texture. 

Microwave the cauliflower for 5 minutes, stirring a little halfway through.  [If you don't want to use a microwave for Step 3]

Move the grated cauliflower to a pan and add 1/4 cup of water. Cover the pan and steam over medium-high heat for about 8-10 minutes. Just make sure to stir half-way through to avoid the cauliflower from burning.

Keep in mind that you will have a bit more water to squeeze out.  Place the now-cooked cauliflower in a kitchen towel, that is on top of a sieve, on a bowl. Make sure to drain as much excess water as possible. There is surprisingly A LOT of water in cauliflower. 

Mix the drained cauliflower and eggs until smooth. 

Place the mixture on a baking sheet into circles at about 1/4" thick. 

Bake for 10 minutes. Flip. Bake for another 5-7 minutes. This is important to dry out the tortilla. 

Move the tortillas to a cooling rack to cool, so the bottom does not become soggy.

Eat with greens, grilled chicken, steak strips or another protein of your choice.

Credit  Recipe & Photo :    3 Fat Chicks/HappyChomp.com
Your comments on this recipe (
2

)





by
ITG_Admin8
, on Friday, 15 May 2015
Typo - Just 3 eggs or 4 egg whites





by
pilates
, on Friday, 15 May 2015
What does it mean by 3 3 eggs?