ITG Recipes for Steps 1-3
Feel free to enjoy the recipes here that can be used on the ITG Diet Plan.  One of our coaches has looked at, approved and most of the time has cooked the recipes we are sharing here.  We did not invent all of these recipes and will try to credit the author when provided.  Plan accordingly depending on the step of the plan you are on.  If you have a recipe you would like to share please send it to us!
Want to keep a list of your favorite ITG recipes handy? Logged in users can click the heart

next to the recipes that you love and then return later to view them again in your favorites list here.
Herb-Stuffed Roasted Zucchini
For All Stages of the ITG Diet Plan
Difficulty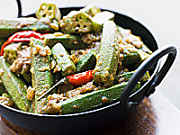 Ingredients
For 2 Servings(s) (


)
Recipe
1

Packet ITG White Cheddar Crisps/Pretzel Twists//Sour Cream Zippers

2

zucchini or squash sliced lengthwise

0.5

cup(s)

diced tomato

chopped parsley

chopped basil leaves

1

teaspoon(s)

fresh or dry dill

1

tablespoon(s)

minced garlic

2

tablespoon(s)

olive oil
Herb-Stuffed Roasted Zucchini Directions
Split 2 medium zucchini or summer squash and scoop out the seeds; season with sea salt & pepper.

Combine crushed White Cheddar Crisps (or Pretzel Twists, Salt & Vinegar Chips, Sour Cream Zippers), tomato, herbs, 1 minced garlic clove, 2 tablespoons olive oil, and salt and pepper.

Spoon the tomato herb mixture into the zucchini; drizzle with olive oil.

Bake in the oven at 425 degrees for 25 to 30 minutes, or in the air fryer at 400 degrees for 12 minutes.
Your comments on this recipe (
0

)