ITG Recipes for Steps 1-3
Feel free to enjoy the recipes here that can be used on the ITG Diet Plan.  One of our coaches has looked at, approved and most of the time has cooked the recipes we are sharing here.  We did not invent all of these recipes and will try to credit the author when provided.  Plan accordingly depending on the step of the plan you are on.  If you have a recipe you would like to share please send it to us!
Want to keep a list of your favorite ITG recipes handy? Logged in users can click the heart

next to the recipes that you love and then return later to view them again in your favorites list here.
Left Over Turkey Soup
For All Stages of the ITG Diet Plan
Difficulty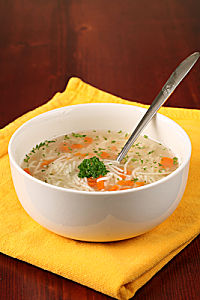 Ingredients
For 4 people (




)
Recipe
8

cup(s)

Low Sodium Chicken Broth

1

Turkey Carcas (meat removed)

1

Onion halved (if carmalizing Step 3 only)

1

Onion diced (if carmalizing Step 3)

1

Carrot halved (Step 3 only)

1

Carrot diced (Step 3 only)

1

Stalk celery whole

1

Stalk celery diced

2

Bay leaves

3

cup(s)

Turkey Meat

2

Garlic cloves (smashed)

2

tablespoon(s)

Olive Oil

3

cup(s)

Leftover Thanksgiving Veggies

1

tablespoon(s)

Fresh Sage leaves (chopped)
Left Over Turkey Soup Directions
Put chicken broth, turkey, onion halves, carrot halves, one celery stalk, and one bay leaf in a large stock pot. Bring to a boil, then simmer about 1 1/2 hours.

Finely dice the remaining onion, carrot and celery and reserve.

Dice the turkey meat, set aside. Make sure meat pieces are no larger than the size of a soup spoon. (If preparing soup the next day, be sure to store leftover turkey meat in an airtight container before placing it in the refrigerator, top with one or two ladles full of broth to keep meat moist.)

Before straining broth, remove large bones and carcass with tongs. Strain the broth through a sieve, covered with wet cheese cloth. Discard the solids. Transfer broth to a bowl set in a bath of ice water, which will cool the broth quickly and help keep it fresher longer. This can be done the night before and stored in the refrigerator until the next day.

In a large soup pot, heat garlic cloves in the olive oil. Allow to brown slightly and add minced carrots, celery, and onion.

Sweat over medium-low heat until softened, about seven or eight minutes.

Dice the leftover vegetables (here Brussels sprouts,Turnip and green beans). Add the chopped sage to the soup pot along with the turkey broth and the remaining bay leaf. Bring to a simmer.

When simmering, add leftover veggies and diced turkey meat to the soup. Bring it back up to a simmer.  Turn the heat off and cover. Allow to sit and steam for five to seven minutes.

Let simmer for five more minutes and serve.
Your comments on this recipe (
0

)