ITG Recipes for Steps 1-3
Feel free to enjoy the recipes here that can be used on the ITG Diet Plan.  One of our coaches has looked at, approved and most of the time has cooked the recipes we are sharing here.  We did not invent all of these recipes and will try to credit the author when provided.  Plan accordingly depending on the step of the plan you are on.  If you have a recipe you would like to share please send it to us!
Want to keep a list of your favorite ITG recipes handy? Logged in users can click the heart

next to the recipes that you love and then return later to view them again in your favorites list here.
Roasted Cabbage Steak
For All Stages of the ITG Diet Plan
Difficulty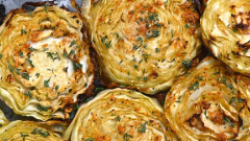 Ingredients
For 4 Servings(s) (




)
Recipe
1

head of cabbage

4

tablespoon(s)

olive oil

0.5

tablespoon(s)

paprika

0.5

teaspoon(s)

sea salt

1

tablespoon(s)

garlic powder

1

pinch(es)

crushed red pepper (optional)
Roasted Cabbage Steak Directions
Cut the ends/stems from a head of cabbage, and then cut into flat discs about 1 inch thick.

Brush one side of the cabbage with olive oil, and coat them completely for best results. Sprinkle with your seasonings.

Turn cabbage over and repeat with olive oil and seasonings.

Place in preheated 400 degree oven and back for about 20-25 minutes, or until the leaves begin to turn brown and the center is soft to the touch. You may also use an air fryer to cook individual or smaller slices of cabbage (cook for about 15 minutes at 400 degrees, cook times can vary).

Servings can vary based on thickness and size of head of cabbage. Typically 4 servings. You can also refrigerate leftover discs of cabbage to cook another day, or pre-cook and heat anytime.

Serve and enjoy on the side of your favorite protein!
Your comments on this recipe (
0

)