ITG Recipes for Steps 1-3
Feel free to enjoy the recipes here that can be used on the ITG Diet Plan.  One of our coaches has looked at, approved and most of the time has cooked the recipes we are sharing here.  We did not invent all of these recipes and will try to credit the author when provided.  Plan accordingly depending on the step of the plan you are on.  If you have a recipe you would like to share please send it to us!
Want to keep a list of your favorite ITG recipes handy? Logged in users can click the heart

next to the recipes that you love and then return later to view them again in your favorites list here.
Veggie Sushi Rolls
For All Stages of the ITG Diet Plan
Difficulty




Category:
Main Dishes
, Vegetable Dishes
-
Rating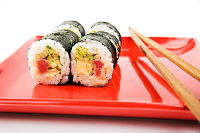 Ingredients
For 1 people (

)
Recipe
2

cup(s)

Cauliflower rice

2

teaspoon(s)

Rice Vinegar

1

Truvia or Stevia Packet

1

pinch(es)

Sea Salt

1

teaspoon(s)

Olive Oil

1

Cucumber( Sliced in thin strips)

1

Red Pepper (Sliced in thin strips)

1

Iceberg Lettuce (Sliced in thin strips)

1

Nori Sheet
Veggie Sushi Rolls Directions
Shred/Grate Cauliflower to rice size grains

Mix vinegar, sweetener, oil and sea salt in bowl with cauliflower rice

Heat mixture in the microwave. Try to get the mixture dry and sticky (might need to pat with a paper towel to absorb moisture)

If you don't have a sushi mat, place a linen towel on the counter, and cover with saran wrap. Lay Nori Sheet on top (the towel is flexible and will allow you guide and roll tightly)

Place cauliflower rice mixture flat and evenly on Nori sheet, leaving about 1/2 inch at the end

Add cucumbers, red peppers and lettuce to the center of the cauliflower rice

Begin rolling the Nori sheet with your fingers, once the veggies are covered, roll over the saran wrap and towel, using it to mold and compress the roll. Continue until it's completely rolled up

Slice the roll with a sharp knife

Dip in low sodium, sugar free soy sauce and enjoy!

*Thank you to ITG's Your Loss You Gain Clinic in Illinois for this great recipe!
Your comments on this recipe (
1

)





by
JPiper
, on Monday, 07 June 2021
I used green giant steamer pack of cauliflower rice and added all ingredients in a bowl with that and it tastes pretty good for a quick lunch. Will have to try the drier version like recipe tells.