ITG Recipes for Steps 1-3
Feel free to enjoy the recipes here that can be used on the ITG Diet Plan.  One of our coaches has looked at, approved and most of the time has cooked the recipes we are sharing here.  We did not invent all of these recipes and will try to credit the author when provided.  Plan accordingly depending on the step of the plan you are on.  If you have a recipe you would like to share please send it to us!
Want to keep a list of your favorite ITG recipes handy? Logged in users can click the heart

next to the recipes that you love and then return later to view them again in your favorites list here.
Maria's Kicken Asian Slaw
For All Stages of the ITG Diet Plan
Difficulty




Category:
Vegetable Dishes
-
Rating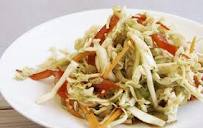 Ingredients
For 4 people (




)
Recipe
10

ounce(s)

Bag of Cabbage (white cabbage) found in the cooler section of produce isle

4

Green Onions (chives) chopped really small

2

to 3 stalks of celery chopped paper thin

0.25

cup(s)

Fresh red pepper (or more to taste)

5

to 8 Drips of Tabasco sauce (more if you like it hotter)

2

tablespoon(s)

Low sodium soy sauce

2

teaspoon(s)

Olive oil

0.5

teaspoon(s)

Black pepper

2

dash(es)

Sea salt (to taste)

0.5

teaspoon(s)

Powdered garlic

0.5

teaspoon(s)

Fresh or jar chopped garlic

0.25

teaspoon(s)

Wasabi - only if you really want to kick it up a notch!!!!
Maria's Kicken Asian Slaw Directions
Put olive oil and chopped garlic in pan (sauté pan) medium heat, throw the entire bag of cabbage in pan use tongs or spatula to coat it with oil in pan.

Throw in onions celery and peppers…drizzle soy sauce and Tabasco sauce over cabbage.

Sprinkle salt and pepper on.

Let it sauté for 10-12 minutes while turning and moving pretty consistently.

And that's pretty much it…yummy! You can eat it cold or hot and I am assuming the same recipe could be done without cooking at all and be more crunchy.
Your comments on this recipe (
2

)





by
NadiaD
, on Wednesday, 02 July 2014
This is so delicious! Has a crunch and a little spicy!





by
Dori
, on Wednesday, 19 June 2013
This was wonderful, took only about 20 minutes to make and cook, served with a pork tenderloin. Both my husband and I love it.