ITG Recipes for Steps 1-3
Feel free to enjoy the recipes here that can be used on the ITG Diet Plan.  One of our coaches has looked at, approved and most of the time has cooked the recipes we are sharing here.  We did not invent all of these recipes and will try to credit the author when provided.  Plan accordingly depending on the step of the plan you are on.  If you have a recipe you would like to share please send it to us!
Want to keep a list of your favorite ITG recipes handy? Logged in users can click the heart

next to the recipes that you love and then return later to view them again in your favorites list here.
Meat and Veggie Meatballs
For All Stages of the ITG Diet Plan
Difficulty




Category:
Main Dishes
-
Rating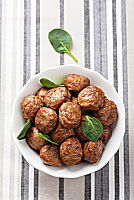 Ingredients
For 4 people (




)
Recipe
1

pound(s)

ground turkey or beef

2

egg whites

0.25

cup(s)

dried or fresh parsley

teaspoon(s)

sea salt and fresh ground pepper

0.5

teaspoon(s)

paprika

1

teaspoon(s)

onion powder

teaspoon(s)

minced or fresh garlic

0.75

cup(s)

grated zucchini

0.75

cup(s)

grated cauliflower

0.5

cup(s)

mushroom or spinach or both
Meat and Veggie Meatballs Directions
Mix ingredients together, make into balls.

Place into non-stick baking sheet & bake at 425 degrees for 20 mins.

These are delicious just like this or you can add more veggies.

It makes a lot of meatballs so stick the extras in the freezer for a quick meal later.
Your comments on this recipe (
2

)





by
april22
, on Friday, 06 February 2015
these meatballs are delicious, and so yummy for a quick snack or dinner. Absolutely one of the best recipes on this website.





by
LisaP
, on Tuesday, 11 February 2014
I also added a package of crushed up White Cheddar Crisp. This is a very easy recipe to follow and easy to mix with a spoon, I like that I didn't have to get my hands all yucky. I also used a cookie dough scoop to place the meatballs onto baking sheet. Best part about these meatballs is my entire family enjoys them for dinner. We will have them again very soon. Thanks again ITG Diet!