ITG Recipes for Steps 1-3
Feel free to enjoy the recipes here that can be used on the ITG Diet Plan.  One of our coaches has looked at, approved and most of the time has cooked the recipes we are sharing here.  We did not invent all of these recipes and will try to credit the author when provided.  Plan accordingly depending on the step of the plan you are on.  If you have a recipe you would like to share please send it to us!
Want to keep a list of your favorite ITG recipes handy? Logged in users can click the heart

next to the recipes that you love and then return later to view them again in your favorites list here.
Crispy Salmon or Chicken with Herb Salad
For All Stages of the ITG Diet Plan
Difficulty




Category:
Main Dishes
-
Rating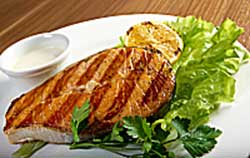 Ingredients
For 2 people (


)
Recipe
2

8 oz. Chicken or Salmon filets

1

Fresh Lemon (cut into wedges)

1

cup(s)

Arugula leaves

1

cup(s)

Baby Spinach leaves

cup(s)

Flat leaf Parsley

1

cup(s)

Cilantro leaves

1

cup(s)

Small Basil leaves

0.5

cup(s)

Fresh Mint leaves

2

tablespoon(s)

Olive Oil

1

tablespoon(s)

Fresh Lemon Juice

0.5

teaspoon(s)

Sea Salt (divided)

0.5

teaspoon(s)

Freshly Ground Black Pepper (divided)

1

Cooking Spray
Crispy Salmon or Chicken with Herb Salad Directions
Combine the arugula, parsley, cilantro, basil and mint in a large bowl. Cover and refrigerate.

Combine the olive oil, juice, 1/4 teaspoon salt, 1/4 teaspoon pepper and garlic. Whisk to combine.

Heat a large cast-iron skillet (fish) or regular skillet over medium-high heat. Coat the pan with cooking spray.

Sprinkle the filets with remaining 1/4 teaspoon salt and remaining 1/4 teaspoon pepper.

Place fillets, skin side down, in pan and cook for 5 minutes.

Turn fillets over and cook for another 2 minutes or until done.

Add the arugula mixture to plates. Top with a fillet and drizzle with the lemon juice mixture. Serve with lemon wedges.
Your comments on this recipe (
1

)





by
april22
, on Tuesday, 03 February 2015
This is a great recipe, the Salmon was crispy and the herb salad was great. The dressing however has far too much lemon juice, I'd actually recommend only 1/2 teaspoon of fresh lemon juice. Still overall this recipe was delicious.