ITG Recipes for Steps 1-3
Feel free to enjoy the recipes here that can be used on the ITG Diet Plan.  One of our coaches has looked at, approved and most of the time has cooked the recipes we are sharing here.  We did not invent all of these recipes and will try to credit the author when provided.  Plan accordingly depending on the step of the plan you are on.  If you have a recipe you would like to share please send it to us!
Want to keep a list of your favorite ITG recipes handy? Logged in users can click the heart

next to the recipes that you love and then return later to view them again in your favorites list here.
Quick and Easy Balsamic Chicken
For All Stages of the ITG Diet Plan
Difficulty




Category:
Main Dishes
-
Rating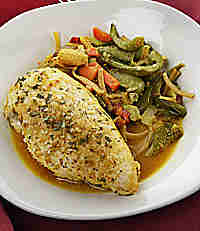 Ingredients
For 1 people (

)
Recipe
0.5

pound(s)

chicken breasts

2

teaspoon(s)

chopped fresh garlic

1

teaspoon(s)

olive oil

4

tablespoon(s)

walden farms balsamic vinaigrette dressing
Quick and Easy Balsamic Chicken Directions
The maximum prep time for this dish goes into cutting the chicken breast and garlic.

Cut chicken breast in thin 2-inch strips

Chop fresh garlic - about 2 tsp (about 4-5 cloves of garlic)

Heat oil in a pan and add garlic. Saute, till golden.

Add chicken and stir well.

Add Balsamic vinaigrette and salt and pepper.

Reduce the heat to medium and let the excess water evaporate.

Keep stirring intermittently and make sure that all the water dries up and the chicken is well coated with Walden Farms Balsamic Vinaigrette Dressing.

Serve hot with mixed vegetables.

P.S. Always use fresh garlic for this. It brings out the flavor more.
Your comments on this recipe (
0

)