ITG Recipes for Steps 1-3
Feel free to enjoy the recipes here that can be used on the ITG Diet Plan.  One of our coaches has looked at, approved and most of the time has cooked the recipes we are sharing here.  We did not invent all of these recipes and will try to credit the author when provided.  Plan accordingly depending on the step of the plan you are on.  If you have a recipe you would like to share please send it to us!
Want to keep a list of your favorite ITG recipes handy? Logged in users can click the heart

next to the recipes that you love and then return later to view them again in your favorites list here.
BBQ Chicken
For All Stages of the ITG Diet Plan
Difficulty




Category:
Main Dishes
-
Rating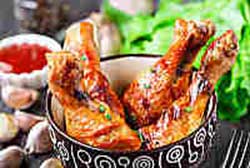 Ingredients
For 4 people (




)
Recipe
4

whole bone in chicken breasts halved lengthwise

1.5

cup(s)

walden farms italian dressing

0.25

cup(s)

BBQ seasonings

1

cup(s)

Walden Farms BBQ sauce
BBQ Chicken Directions
Rinse chicken halves in cold water and pat dry with paper towels. Place chicken in a large bowl or baking dish, coat with Walden's Italian dressing and evenly season with For best results, allow the chicken to marinate in the refrigerator overnight.

Take the chicken out of the refrigerator and brush chicken with Walden Farms BBQ Sauce.

Place into a preheated 350 degree F oven for 45 minutes.
Your comments on this recipe (
2

)





by
april22
, on Friday, 06 February 2015
This recipe could use a little tweaking, an extra ingredient so thicken up the BBQ sauce, and perhaps the chicken should be cut into smaller pieces before being placed into the crockpot.





by
april22
, on Friday, 06 February 2015
This recipe is okay, the barbecue sauce is rather thin, and so needs some ingredients to thicken it up. The chicken should be cut into smaller strips before being placed in the crockpot.