ITG Recipes for Steps 1-3
Feel free to enjoy the recipes here that can be used on the ITG Diet Plan.  One of our coaches has looked at, approved and most of the time has cooked the recipes we are sharing here.  We did not invent all of these recipes and will try to credit the author when provided.  Plan accordingly depending on the step of the plan you are on.  If you have a recipe you would like to share please send it to us!
Want to keep a list of your favorite ITG recipes handy? Logged in users can click the heart

next to the recipes that you love and then return later to view them again in your favorites list here.
BBQ Chicken Pizza
For All Stages of the ITG Diet Plan
Difficulty




Category:
Main Dishes
-
Rating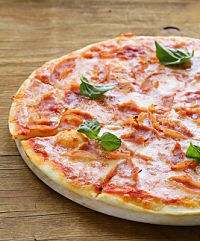 Ingredients
For 1 people (

)
Recipe
1

package ITG Plain Pancake Mix

garlic powder to taste

Italian Spices to taste

0.25

cup(s)

diced red onion

4

ounce(s)

low-sodium grilled chicken strips

Walden Farms Ranch or Bleu Cheese for dipping

2

tablespoon(s)

Walden Farms BBQ Sauce
BBQ Chicken Pizza Directions
Spray pan with olive oil and heat on stove

Prepare ITG Plain Pancake Mix according to directions but add a bit more water to make thinner crust; add spices.

Pour mix into pan and bake pancake until firm, flipping halfway through

Spread BBQ Sauce on top of crust

Top with chicken and red onion (include any veggies of your choice)

Dip in Walden Farms Ranch or Bleu Cheese and enjoy!

Recipe courtesy of Val from Total Health Chiropractic in Tampa
Your comments on this recipe (
2

)





by
ITG_Admin8
, on Thursday, 16 February 2017
You can add cheese to any recipe in Step 2 and Step 3 of the plan in the proper portion sizes for the day. That's why it is not listed in the ingredients.





by
judimoore67@gmail.com
, on Thursday, 16 February 2017
Doesn't that picture show cheese on top???