ITG Recipes for Steps 1-3
Feel free to enjoy the recipes here that can be used on the ITG Diet Plan.  One of our coaches has looked at, approved and most of the time has cooked the recipes we are sharing here.  We did not invent all of these recipes and will try to credit the author when provided.  Plan accordingly depending on the step of the plan you are on.  If you have a recipe you would like to share please send it to us!
Want to keep a list of your favorite ITG recipes handy? Logged in users can click the heart

next to the recipes that you love and then return later to view them again in your favorites list here.
Santa Fe Steak
For All Stages of the ITG Diet Plan
Difficulty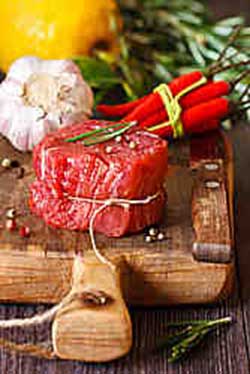 Ingredients
For 4 people (




)
Recipe
2

tablespoon(s)

extra virgin olive oil

1

poblano chili pepper

1

medium onion

1

pinch(es)

sea salt to taste

Fresh ground black peppercorns

4

cloves garlic minced

1

teaspoon(s)

ground cumin

1.5

pound(s)

beef flank steak
Santa Fe Steak Directions
Cut pepper into 1/4" strips and thinly slice onion.

Heat a tablespoon of oil in nonstick skillet on medium-high heat. Add 1/4" strips of pepper and onion and stir to cook through. Cook until soft, about 8 minutes.

Add a cup of water and turn heat to high setting. Boil until water is evaporated and veggies are tender, about 4 minutes. Remove from stove, season with salt and pepper and cover so they stay warm.

Heat grill/grill pan on medium-high heat. In bowl, combine cumin, garlic, and the rest of the oil to make thin paste. Spread on steak and rub into both sides of meat.

Season the steak with salt and pepper, grill 5 minutes each side for medium rare. Remove from heat and allow the steak to rest for 5 minutes. Thinly slice across grain. Serve with peppers and onions.

If you do not have poblano peppers available, use a bell pepper with a dash of hot sauce. For extra flavor, allow steak to marinate at room temp for 30 minutes before cooking.
Your comments on this recipe (
0

)