ITG Recipes for Steps 1-3
Feel free to enjoy the recipes here that can be used on the ITG Diet Plan.  One of our coaches has looked at, approved and most of the time has cooked the recipes we are sharing here.  We did not invent all of these recipes and will try to credit the author when provided.  Plan accordingly depending on the step of the plan you are on.  If you have a recipe you would like to share please send it to us!
Want to keep a list of your favorite ITG recipes handy? Logged in users can click the heart

next to the recipes that you love and then return later to view them again in your favorites list here.
Herbed Calamari Salad with Preserved Lemons
For All Stages of the ITG Diet Plan
Difficulty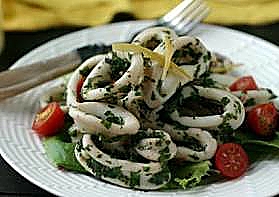 Ingredients
For 6 people (






)
Recipe
3

tablespoon(s)

extra virgin olive oil

2

to 3 medium cloves garlic, smashed and minced

2.5

pound(s)

cleaned, trimmed, uncooked calamari rings (optional, tentacles)

0.75

teaspoon(s)

sea salt

0.25

teaspoon(s)

fresh ground black pepper

1

pinch(es)

crushed red pepper flakes

1

large lemon, juiced

0.25

cup(s)

finely chopped mint leaves

0.25

cup(s)

finely chopped cilantro leaves

0.5

cup(s)

finely chopped flat-leaf parsley leaves

1

preserved lemon peel, thinly sliced
Herbed Calamari Salad with Preserved Lemons Directions
Begin by defrosting the calamari (if purchased frozen). Place in a strainer and run under cold water for 15 to 20 minutes, tossing a couple of times, until soft and pliable. Drain water, pat dry with paper towels and set aside.




Use a paring knife to remove just the rind from the preserved lemon. Discard the inside and thinly slice the rind.

Smash garlic and mince. Finely chop cleaned mint, cilantro and parsley.

Heat a very large skillet or frying pan over medium high heat. Once hot, add 1½ Tablespoons of olive oil. Heat oil and add garlic.

Saute, stirring constantly, for 20 to 30 seconds until fragrant and add in defrosted and well-drained calamari (If your pan isn't large enough to accommodate all the calamari in one layer, divide the 1½ T olive oil and cook the calamari in batches. You do not want them to steam, you want them to sear and for that, they must cook in a single layer with some room around them).Sprinkle with a pinch of salt and pepper and continue cooking for 2 to 4 minutes or until opaque and just firm. You do not want to overcook the calamari or it be have a rubbery texture.




Drain off any liquid that is released during cooking and remove cooked calamari to a mixing bowl.

Add remaining 1½ Tablespoons olive oil, salt, pepper, red pepper flakes, lemon juice, preserved lemon rind and herbs to mixing bowl and toss well while calamari still warm.

Adjust seasoning if necessary, cover and chill until ready to serve. This is nice served over some spring greens or other delicate lettuce with some ripe cucumbers or grape tomatoes.
Your comments on this recipe (
0

)