ITG Recipes for Steps 1-3
Feel free to enjoy the recipes here that can be used on the ITG Diet Plan.  One of our coaches has looked at, approved and most of the time has cooked the recipes we are sharing here.  We did not invent all of these recipes and will try to credit the author when provided.  Plan accordingly depending on the step of the plan you are on.  If you have a recipe you would like to share please send it to us!
Want to keep a list of your favorite ITG recipes handy? Logged in users can click the heart

next to the recipes that you love and then return later to view them again in your favorites list here.
Key Lime Tarts
For All Stages of the ITG Diet Plan
Difficulty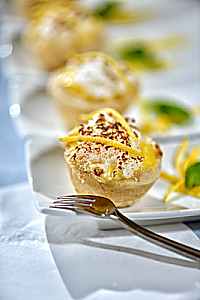 Ingredients
For 4 people (




)
Recipe
Filling:

5

packets True Lime powder

3

ounce(s)

water

Stevia or Splenda to taste

1

packet ITG Vanilla Pudding Mix

Crust:

1

packet ITG Maple Brown Sugar Oatmeal

1

egg white

1.5

ounce(s)

water

Meringue:

2

egg whites
Key Lime Tarts Directions
Filling Directions: Dissolve 4 True Lime flavor packets in water, add Stevia or Splenda just to add a touch of sweetness. Add ITG Vanilla Pudding and mix until smooth texture. Cover & refrigerate the mix.

Crust Directions: Pre-heat oven to 350.

Mix ITG Maple Brown Sugar Oatmeal packet with egg white and water, make a stiff dough.

Coat muffin tins or baking cups with non-stick cooking spray.

Form small balls of the dough, 2-3 tsp each, with a bit of water on fingers to keep dough from sticking to hands, place ball in each cup and press firmly, create indentation so it forms a cup shape.

Bake 5 -7 minutes, then cool on a wire rack.

Remove filling from refrigerator, stir in last packet of True Lime flavoring.

Fill Pastry Shells evenly.

Meringue directions: beat two egg whites until stiff peaks begin to form and garnish top of lime filling.

Makes about 6 tarts.

Enjoy!
Your comments on this recipe (
0

)