ITG Recipes for Steps 1-3
Feel free to enjoy the recipes here that can be used on the ITG Diet Plan.  One of our coaches has looked at, approved and most of the time has cooked the recipes we are sharing here.  We did not invent all of these recipes and will try to credit the author when provided.  Plan accordingly depending on the step of the plan you are on.  If you have a recipe you would like to share please send it to us!
Want to keep a list of your favorite ITG recipes handy? Logged in users can click the heart

next to the recipes that you love and then return later to view them again in your favorites list here.
Taco Stuffed Portobello Mushrooms
For All Stages of the ITG Diet Plan.
Difficulty




Category:
Main Dishes
, Recipes For Step 3
, Snacks
-
Rating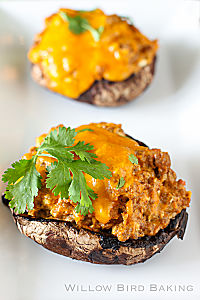 Ingredients
For 6 Servings(s) (






)
Recipe
sea salt and pepper to taste

6

Large Portobello mushrooms, cleaned with stems and gills removed

1

dash(es)

cayenne pepper (optional)

1

tablespoon(s)

minced garlic

3

tablespoon(s)

extra virgin olive oil

0.75

cup(s)

Shredded sharp cheddar cheese (Step 3 Only)

4

tablespoon(s)

salsa (Step 3 only, use diced tomato for Step 1)

1

pound(s)

lean ground beef, chicken or turkey

1

tablespoon(s)

cumin (Step 3, 1 packet Taco Seasoning)

0.25

cup(s)

water

0.25

cup(s)

chopped cilantro for topping (optional)
Taco Stuffed Portobello Mushrooms Directions
Preheat the oven to 375 degrees F. Brush each mushroom with olive oil and salt and pepper both sides. Place them on a foil-lined baking sheet and roast for 10 minutes as you prepare the stuffing.

Place the salsa (or diced tomatoes), and cheddar cheese (Step 3 Only) in a medium bowl. In a skillet over medium-high heat, brown garlic and set aside, then brown ground beef.

Drain beef and return it to the pan over the heat. Add cumin, cooked garlic, optional dash of cayenne pepper and water.

Stir until water has evaporated. Add the Step 3 cheese and salsa mixture until it melts into beef.

Flip each mushroom and fill them with the beef mixture. Top with a little extra cheddar cheese in Step 3 and bake for 5-10 minutes, until the mushrooms are tender but still holding their shape.

Serve immediately with a sprinkling of chopped cilantro.

Photo Credit: Willow Bird Baking
Your comments on this recipe (
1

)





by
Sprouty
, on Tuesday, 11 October 2016
These are soooo good!! I made them for a girls night and they were a huge success. Instead of the large portabella mushrooms I opted for the smaller mushrooms as they were more finger-food friendly. They were totally gone in a flash and I was even asked to bring them to future neighborhood functions.