ITG Recipes for Steps 1-3
Feel free to enjoy the recipes here that can be used on the ITG Diet Plan.  One of our coaches has looked at, approved and most of the time has cooked the recipes we are sharing here.  We did not invent all of these recipes and will try to credit the author when provided.  Plan accordingly depending on the step of the plan you are on.  If you have a recipe you would like to share please send it to us!
Want to keep a list of your favorite ITG recipes handy? Logged in users can click the heart

next to the recipes that you love and then return later to view them again in your favorites list here.
Babaganoush
For Step 3 of the ITG Diet Plan
Difficulty




Category:
Recipes For Step 3
-
Rating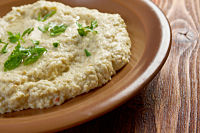 Ingredients
For 4 people (




)
Recipe
1

pound(s)

Eggplant, Large

2

Cloves of Garlic, Minced

0.25

teaspoon(s)

Sea Salt

0.25

cup(s)

Fresh Flat-Leaf Parsley (finely chopped)

2

tablespoon(s)

Tahini

2

tablespoon(s)

Lemon Juice
Babaganoush Directions
Preheat oven to 450 degrees F.

Prick eggplant with a fork and place on a cookie sheet lined with foil.

Bake the eggplant until it is soft inside, about 20 minutes.

Alternatively, grill the eggplant over a gas grill, rotating it around until the skin is completely charred, about 10 minutes.

Let the eggplant cool. Cut the eggplant in half lengthwise, drain off the liquid, and scoop the pulp into a food processor.

Process the eggplant until smooth and transfer to a medium bowl.

On a cutting board, work garlic and 1/4 teaspoon salt together with the flat side of a knife, until it forms a paste.

Add the garlic-salt mixture to the eggplant.

Stir in the parsley, tahini, and lemon juice. Season with more salt, to taste. Garnish with additional parsley.

Source: FoodNetwork.com
Your comments on this recipe (
1

)





by
april22
, on Monday, 09 February 2015
this recipe is absolutely delicious, I suggest doubling the recipe because you will want to eat this dip again!