ITG Recipes for Steps 1-3
Feel free to enjoy the recipes here that can be used on the ITG Diet Plan.  One of our coaches has looked at, approved and most of the time has cooked the recipes we are sharing here.  We did not invent all of these recipes and will try to credit the author when provided.  Plan accordingly depending on the step of the plan you are on.  If you have a recipe you would like to share please send it to us!
Want to keep a list of your favorite ITG recipes handy? Logged in users can click the heart

next to the recipes that you love and then return later to view them again in your favorites list here.
Sage & Rosemary Pork
For All Stages of the ITG Diet Plan
Difficulty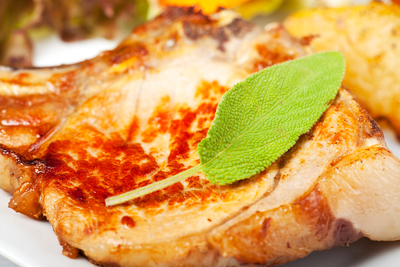 Ingredients
For 6 people (






)
Recipe
2

tablespoon(s)

Parsley (fresh)

1.5

tablespoon(s)

Sage (fresh)

3

Garlic Cloves

1

tablespoon(s)

Rosemary (fresh)

4

tablespoon(s)

Olive Oil (extra-virgin)

2

teaspoon(s)

Mustard (dijon)

1

teaspoon(s)

Sea Salt

0.75

teaspoon(s)

Black Ground Pepper

1

Whole Pork Loin

4

Kitchen String (pieces)

1

cup(s)

Wooden Toothpicks
Sage & Rosemary Pork Directions
In a small bowl, combine parsley, chopped sage, chopped rosemary, garlic, 3 tbsp oil, mustard, 1/4 tsp sea salt, and 1/4 tsp pepper, to make filling.

Preheat oven to 350°f.

Butterfly the pork loin. Sprinkle the top side of the butterflied loin with half of the 3/4 tsp of sea salt and 1/4 tsp pepper.

Spread the filling evenly across the loin, leaving 1/2' border along the edge where you made the first cut.

Beginning at the opposite edge, roll the loin up to wrap the filling. 

Using kitchen twine, tie the loin every 1 1/2" to hold its shape.

Rub the loin with the remaining oil and sprinkle with the remaining salt and pepper.

Place the loin in a small roasting pan and position on the center rack of the oven.

Roast for 1 hour, or until thermometer inserted in the center registers 145°f and the juices run clear. 

Let stand for 10 minutes before carving.

To prevent slices from unrolling, skewer the roast every 1/4" with wooden picks along the edge where the roll ends.

Slice crosswise between the wooden picks and ties.

Remove the kitchen twine before serving.

Garnish with the sage leaves and rosemary sprigs.
Your comments on this recipe (
0

)