More Success Stories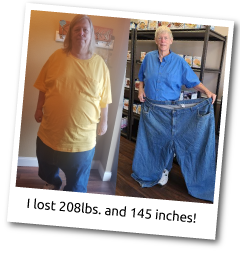 ITG is the best diet, by far. I feel like I have invested in myself and my health.
I used to have a lot of pain in my knees which made it hard for me to walk. When I talked to my doctor, he recommended I try the ITG Diet Plan to work on getting healthier and losing weight. I hadn't tried dieting before, but I wanted to improve my health and feel better. I got started with Coach Michelle at 414 pounds and began the process of working with her to get the weight off and get myself healthy. Once I started and saw how fast the weight was coming off, I was really motivated to keep up with my visits with her and keep up the momentum.
ITG is the best diet, by far. I did miss a lot of my favorite foods and visiting some of the restaurants I liked to go to before, but like I said my health was more important to focus on in this stage. I didn't even feel any temptations. Some of my favorite ITG foods are the Wafers – all four flavors! The Ready-To-Drink shakes are so convenient, and I also really enjoy the cereals, pancakes, and yes even the bread is delicious. Even though I knew my journey was going to take some time to reach my goals, Michelle has been my rock. She's very knowledgeable and gets me motivated every time I weigh in with her.
I am no longer on any medications, and even though I didn't walk much before I'm doing about 7000 steps a day now. My knees feel so much better without the pressure. I feel like I have invested in myself and my health. To date, I have lost 208 pounds and 145 inches off my body overall. If you're thinking of starting the ITG Diet, do it. Even if you think you can't, you can do it. It's easy and you'll see pretty quickly that a lot of the temptation and cravings go away. Make sure you turn to a coach, especially if you're serious about losing weight. Thanks to Michelle for continuously motivating me through this journey. She has helped change my whole life!
- Chuck E., The Villages, FL
RN Medical
I no longer have to take my prescription medication for acid reflux.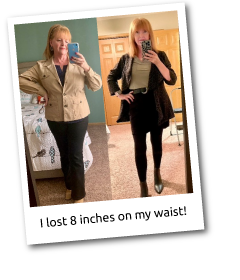 I have been following the ITG diet since late July 2022 and have lost 27 pounds and 23 inches total - 8 inches on my waist -which blows my mind!! Not only have I seen a significant change in my weight, but I have also noticed a significant improvement in my overall health and well-being - I no longer have to take my prescription medication for acid reflux. The diet is easy to follow and has helped me make healthier food choices. I feel more energized and I have more self-confidence. I highly recommend the ITG Diet to anyone looking to lose weight and to improve their overall health. Using free ITG Diet Online Coaching will help me stay on track for my weight and health maintenance goals for years to come!
- Miriam H., Valparaiso, Indiana
ITG Diet Online Coaching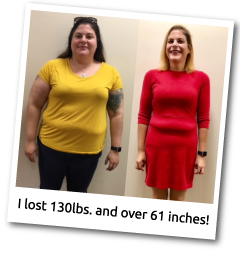 This diet has saved my life!
Like most diet stories, mine starts the very same. I had struggled with my weight my entire life. I started dieting when I was 12 years old. If you name a diet, I had tried it. In 2009 I made the conscious decision to become a vegetarian and have remained so ever since. However, even though I was vegetarian, I still had horrible eating habits. Beer and nachos, despite their lack of nutrition, were still part of my regular vegetarian diet.
In addition to poor food choices, I wasn't very physically active. I would try something out for a few weeks and then quit. Despite my desperate attempts at various crash diets and aggressive exercise plans, I just kept repeating the same poor food choices and kept watching as my weight continued to rise. I was becoming depressed, I hated looking at myself in the mirror. I started shying away from social events and taking pictures, I stopped hanging out with my friends and just stayed home to watch TV.
In 2017 my doctor ran blood tests and said that I had elevated triglycerides and cholesterol, something I had never had a problem with in the past! I was pretty much on the fast track to diabetes if something didn't change. But despite hearing that horrifying news, that wasn't even the moment that made me change my ways. It all changed when I went on a trip to Universal with my fiancé. We were in line for the Harry Potter ride, nothing seemed out of sorts until we got to the part where you load the ride and the lady told me I was too big to ride. At first, I felt disbelief, then horror. That exact moment changed my life forever. I had change. I weighed myself that day and it was the highest it had ever been in my entire life. I was only two pounds away from being 300 pounds. I was so disappointed in myself.
I knew I had to go on a diet, but also knew crash or fad dieting was not going to work. I needed a diet that would give me structure but would also teach me proper eating habits and nutrition. I researched a lot of brand name diets but what struck me the most about ITG was its variety of foods available, and the fact that the dieter had to cook for themselves in addition to the pre-packaged foods.
So, I made the first initial consultation appointment with my Coach Jo-Ann. I didn't know what to expect and to be honest, because I was such an avid dieter I was a bit skeptical on what would make this diet any different. My first meeting was AMAZING! Jo-Ann was extremely encouraging, funny, and answered every single one of my questions without hesitation. The diet proved to be exactly what I was looking for with simple concepts, easy execution, and a large knowledge base to draw information from.
So fast forward to Day 1 on the ITG diet, October 23, 2017, I was scared. I had no idea what to expect. How is my body going to respond? Will this work? Will I be able to have a normal social life AND maintain this diet? At first, I felt like my "normal" life was over. Well, I could not have been more wrong.
The ITG diet was by far one on the easiest diets I have ever been on. I made sure each week to make an extra effort to try new food pairings and recipes that were on diet, so I never got bored. And when I had a moment of weakness, or felt like I couldn't do it, Jo-Ann was only a text or an email away to assure me, "Yes, this is normal."
I was shocked at how fast the weight came off. I knew I had a long way to go to my goal weight, so I didn't focus on the numbers, I just took it week by week. The diet went by in a flash and as of today I have lost a total of 130 pounds! To tell you the truth, I still can't believe that I have made my goal weight. After completing this program, I have a COMPLETELY different attitude towards food. Food no longer has this hold over my mind. This diet has saved my life, my blood results show all my levels are back down to a normal healthy range. After ITG I have more confidence, am happier, and just all over more content with life. In the end, I realize there is no magic cure, you must be the one to rescue yourself and that's exactly what I did with the help of ITG and Jo-Ann.
I am forever grateful.
- Mary M., Orlando, FL
Family Medical Center
ITG made my weight loss goals possible because of the wonderful support of my coaches.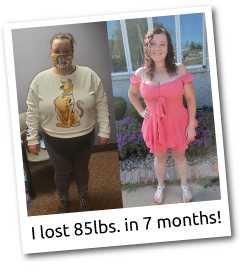 It's hard to stick with a diet. I always seemed to miss a lot of the foods I usually enjoy. However, ITG offers healthy alternatives that really taste great! The diet is easy to follow and you have a Coach that can answer all of your questions. ITG made my weight loss goals possible because of the wonderful support of my coaches. Plus, it's such an easy to follow program. No confusion with macros or counting calories, or feeling uncomfortable trying to work out at the gym. You are given the foods you need and taught proper portion control. Everything you need to do each day is laid out for you to follow. I lost 85 pounds in 7 months! I followed the guidelines, checked in with my Coach consistently, and the weight just fell off almost effortlessly!
- Jennel C., Valparaiso, IN
Prima Bella Women's Health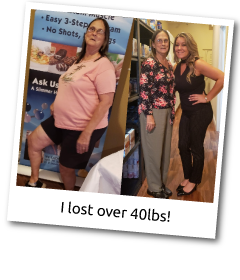 My favorite ITG food is the Caramel Nut Bar.
I have lost over 40 pounds with ITG and RN Medical! I love the ITG Foods, they're great! And Michelle is wonderful as my coach. Learning how to eat right and being accountable to my coach each week has helped me be successful. I feel better, and I'm waiting to buy new clothes because I have kept losing weight! My favorite ITG food is the Caramel Nut Bar. I love the cereals too…anything with chocolate! Throughout my weight loss journey, I've learned how to use food as fuel. We still like to cook on the grill and bake, we just do it with much healthier foods these days.
- Doris M., Lady Lake, FL
RN Medical
I would plateau on other diets and then usually quit. With ITG, that didn't happen!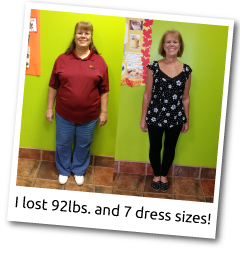 At the age of 61, my goal was to be a healthy weight so I could be active and not rely on medications. Before ITG I couldn't even get up if I was on the floor without help. Everything was difficult, whether it was tying my shoes, bending over, or dancing; I was always out of breath. I am now able to be more active. I can go for a walk or go roller-skating and I feel good about the way I look in clothes. For the first time in a very long time I enjoy shopping for clothes where before I would just pick up something and go home hoping it would fit.
I needed to lose weight to help with my blood pressure and cholesterol. My mother is diabetic and needs insulin shots. Without this diet and being a healthier me, I am not sure I would be able to deal with the needles and shots that come with the struggles of diabetes. I will also need knee surgery and weight loss will help with my recovery time.
I love the ITG Foods! This is one of the easiest plans to follow. Lots of water and vegetables helped me get through the first couple weeks, and then it was just a matter of continuing to eat the right foods to lose the weight. I followed everything my coach told me and every week I lost weight. This was amazing to me since I would plateau on other diets and get frustrated, and then usually quit. With ITG, that didn't happen and the support of the coaches and my family was amazing!
The people at ITG are awesome, helpful, and always there to answer questions. Their advice and encouragement and the way they treat everyone like family makes the dieting process so much better. Every week I've been there I have had a positive attitude because I knew that, if anything, when I left the clinic I would have more knowledge to reach a healthy goal. Whether I was traveling or busy with family visits, they always assisted me with ideas and suggestions to make it through. The food kept me on track and the recipes are excellent!
Because of ITG, I no longer need my cholesterol medication and my blood pressure meds have been cut in half. My doctor was amazed at my dedication and hopes that next time I visit my blood pressure meds can go away completely. I just need to maintain and stay healthy. ITG makes that possible for me! Thank you!
- Joanne M., Holiday, FL
Slim Down St. Pete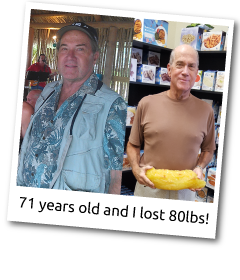 I haven't felt this alive for some 20 years!
Some 8 months back, I saw my doctor for my regular 6-month exam. He expressed his concern over my weight gain and highly recommended that I lose some weight since at 5' 11", 71 years old, and 256 pounds, I could quickly be assessed in that terrible "obese" category. The doctor was also concerned with my heart health, since I had rising blood pressure, and finally atrial fibrillation that showed up irregularly with an arrhythmic heartbeat. He plainly advised me that the very best thing I could do for myself was to shed a lot of weight and unload some of the weight associated strain on my circulatory system.
Up until my hip replacement in 2010 and knee replacement in 2014, my weight had been slowly climbing from a middle age average of about 190 pounds up to 206 pounds when I had my knee replacement surgery. Since the knee replacement surgery and the slow recovery from that, I had become quite unmotivated toward physical activity and quite uncontrolled in my impulse-dominated eating habits. My weight gradually climbed almost unnoticed from that 206 pounds, to 225, then, 240, and finally 256 pounds.
I took a good long look at myself one night after I stepped out of the shower and said to myself "That is just not me! I have to do something about this. I look terrible, I have no energy, I have almost no clothes in my closet that I can wear, and no longer feel any desire to go out and socialize, even with friends."
So, I called around and discovered that there was an ITG Clinic nearby. I started the program in late May of 2016.
By December 2016 I transitioned off the diet plan, having lost almost 80 pounds! I am now at my goal of 176 pounds. I just couldn't believe that I lost that weight so quickly. I saw my ITG Coach weekly, and I could not have made it on my own without his help.
So now I can stand in front of my closet and again say "I have no clothes to wear" but this time for a different reason...they are practically all too big for me! I am enjoying shopping now for clothes that fit my 80 pound lighter frame, I have enacted my silver sneaker management from my health insurance company, and joined a gym and have gotten back into exercising 3 times a week. I regularly ride my new bike, really enjoy the outdoors, and have met several neighbors that I have been passing by for some 6 years.
I haven't felt this alive for some 20 years! Now, with my weight under control, an enhanced self-image, some very strong motivation for keeping the weight off, a renewed enjoyment of meeting and interacting with new acquaintances, loads of energy to finally work on that long list of things-to-do-after-retirement, and most important, knowing that I am treating my heart and health with new care and respect.
Life is good! And primarily thanks to how well the ITG Diet Plan has worked for me.
- Gary V., Venice, FL
Slim Down Sarasota
Wow. This diet has completely amazed me!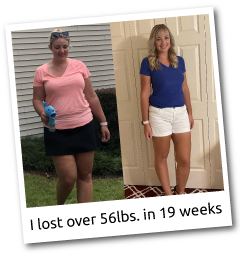 Like most people, I gained most of my weight when I went off to college. Then I got pregnant and added even more weight to that. Then we had a nationwide pandemic and moved in with my mother-in-law. The weight packed on. I tried eating healthy and exercising every day with my husband… He lost a bunch of weight, I did not. For months I tried to lose and nothing was working. Then I found out I'm pre-diabetic and I panicked. I remembered my maid of honor losing a bunch of weight and I asked her what plan she was following, and I found Joe at ITG Diet. Finally, I found something that gave me hope.
I went in for my first weigh-in appointment and Joe told me "Take as many days as you need to get any junk food out of your diet because you can't have any of it after we start" I said, "I've already done that; I want to start now." My starting weight was 215lbs and today I weigh in at 159lbs. In 19 weeks, I lost 56lbs. I am amazed. Whenever I started to struggle, I reached out to Joe and he helped talk me into sticking to the diet. This journey has been incredibly worth it, the food has been delicious, and I love this happier and healthier version of myself.
- Melissa A., FL
Slim Down St. Pete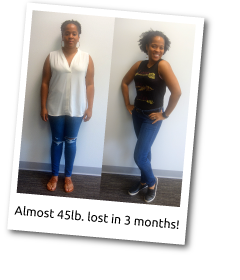 This program is the only program I can honestly say does what it promises!
This program is the only program I can honestly say does what it promises! I have been on every diet in the past: low carb, Atkins, cabbage soup, lemonade, B12 ...you name it, I've tried it! When I signed up with coach Ryne at Your Loss Your Gain, I was feeling defeated because I had gained almost 40 pounds after fertility treatments and having a baby. I was really skeptical about being able to stick to this plan, because I had already tried everything that usually worked and the weight was not budging. I was worried about being hungry and very worried about failing yet again. Ryne was extremely patient, knowledgeable and so, so motivating. He took his time to explain the science behind the program and explained that once I commit to change, it will happen. And he was right! Every single week I saw the pounds coming off and most importantly I was not hungry and I did not feel deprived. I felt energized and I felt motivated. Week after week...I was excited for my weekly weigh-ins and even more excited to see my numbers improving. I am 3 months in and down almost 45 lbs. and 15% body fat. All my clothes from 2-3 years ago are fitting, I feel healthy and happy and finally like I'm in control. I have found a lifestyle that works for me and that actually makes me feel and look great. Ryne has talked me through many periods of self-doubt and helped me troubleshoot because of my crazy work schedule and the demands of life in general! He is absolutely the best coach and I don't think I would have been as motivated to keep going without him! He helped me stay on track and I couldn't be more grateful and happy for my results. Your Loss Your Gain really delivers! I couldn't be happier.
- Renee M., Chicago, IL
Your Loss Your Gain
The selection of ITG foods made it easy to try new items.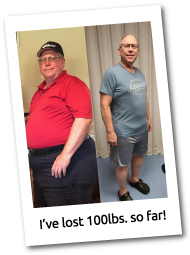 I believe everyone who wants to lose weight has to have or find that "one" trigger or life changing event to get started on a healthy path to lose those extra pounds that found their way onto our bodies. My trigger was when I needed to reduce my pain and have hip replacement surgery. The insurance company didn't want to pay for my surgery because my BMI was 52! My orthopedic doctor suggested I check into a weight loss program that they sponsor called ITG Diet. I proceeded to sign up and with the help of Jennifer and Leslie (my ITG Coaches) I took my first step toward a healthier life. Using the guidelines given by ITG and by logging everything that went into my body, I reached a state of ketosis, and that's when the pounds started to come off.
With the ITG products and nutritional supplements I started to feel better and lost enough weight to have my surgery. With a new hip my mobility and ability to exercise helped a great deal to shed the pounds. The ITG program kept me grounded and having weekly accountability kept me motivated to lose more weight. It was a slow process but after 1 year I have lost 100 pounds! My BMI is 35.6 and so I still have a way to go to get to my goal weight. I have every confidence that with Jennifer and Leslie's encouragement I will reach my goal in the not too distant future.
As with any supplement based weight loss program, you find the foods you like the most that work for you. The selection of ITG foods made it easy to try new items and keep eating my favorite protein bars and snacks. I highly recommend to anyone that is looking for a safe way to lose weight and feel better physically and mentally to sign up and join the rest of us in the ITG Family. The 3-Step program is what really solidified my joining, since you not only lose weight, but they teach you how to transition back into eating regular foods and how to keep the pounds off.
Thank you very much ITG (It's The Greatest) Diet!
- Gary O., Port Huron, MI
Orthopedic Associates of Port Huron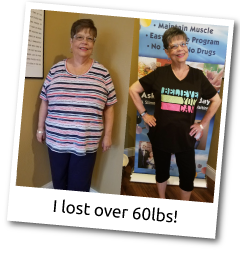 All my lab values are in the normal ranges!
I have struggled with my weight all my life. I am a retired RN and live in The Villages, Florida. In January of 2017 I hit bottom. I was morbidly obese, depressed and my cholesterol and other labs were in unhealthy ranges. My blood pressure was creeping up to the elevated level. My body hurt, and energy levels were at an all time low. I felt like an old lady, and I was sick of this life – being a nurse, I knew that if I continued down this path I would develop the same diseases that had taken the life of my parents (heart disease and diabetes).
I tried several other diets to lose weight, but when I came across ITG I figured what did I have to lose? Well, that was approximately 60 pounds! My ITG Coach Michelle at RN Medical explained how ITG worked for weight loss. I was never hungry or deprived of energy on the program. I began incorporating a lot more whole foods and exploring creative ways to prep and cook them. I have turned many of my friends and family on to the ITG Diet Plan and a more healthy way of eating!
I am happy to say that I went from 211 pounds and a size 22/24 to a size 10/12. This diet has saved my life, and all my lab values are in the normal ranges! I now know how to eat and maintain my weight for life!
- Kathy S., The Villages, FL
RN Medical
The ITG diet completely changed my life for the better!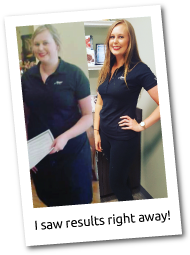 The ITG diet completely changed my life for the better! I was so down and unhappy with the way I looked. I had resigned to thinking that I would always be heavy. I tried changing my diet and exercising in the past, but never really saw significant results, which I found very disheartening. I was skeptical about the ITG Diet, but was pleasantly surprised to see the results right away! Seeing the progress that I was making each week was a great motivator to continue with the diet. The weekly weigh-ins with my coach also helped to keep me accountable. At this point, I feel so much healthier and so much better about myself. It's such a great feeling to put on clothes that I haven't worn in years and have them fit better than when they were new! I am very grateful to my coach Mary Jane for her support and to the ITG Diet because it has boosted my self-esteem and made me into a much happier and healthier person!
- Amy C., Orlando, FL
Envision Absolute Beauty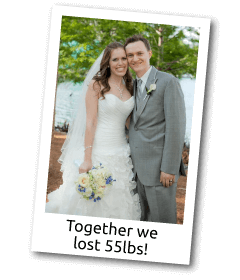 We felt so confident on our wedding day.
We wanted to feel the best on our wedding day, so to us that meant losing a few pounds. It was important for us to do this in a healthy way and also to have guidance. That's where Melita with Best Weight On You came in. Melita met with us on a weekly basis to keep us on track, measure our weight loss and even provided recipes. Together we lost a total of 55 lbs and felt so confident on our wedding day! Thanks Melita for helping us feel good on such an important day as well as teach us healthy eating habits for our future.
- Bonnie and Paul, Orlando, FL
Best Weight On You
I have never felt better!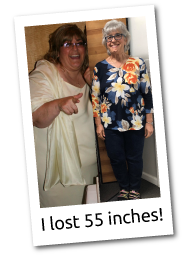 I tried the ITG Diet Plan through Prima Bella Women's Health and stuck with it for 22 months. Yes, it seems like a long time, but I've lost 134 pounds with ITG! I had previously lost 40 pounds for a grand total of 174! I have never felt better. I have energy that I never had before, and I even was able to walk 10 miles in a single day – just because I wanted to do it! My clothing size dropped from a snug-fitting 26-28. I am now down to a NOT snug-fitting 10-12! I dropped over 55 inches in measurements from the start. I have stayed the course and weathered my plateaus, and with the help of my coaches at Prima Bella I have been able to stay focused on my long-term weight loss goals! The ITG Foods are quite good, and I've become much more creative and healthier with my food choices and prep as a result!
- Alexis B., Indiana
Prima Bella Women's Health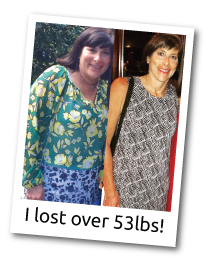 Thanks to ITG I have been able to get my life back!
These pictures were taken less than one year apart from when I embarked on my ITG journey at the end of 2016. After a broken foot, going through menopause, and the stresses of life, I did not like the woman I saw when I looked in the mirror. Coach Christy at Stern Cardiovascular's Wellness Center gave great coaching advice throughout the process. Thanks to ITG I have been able to get my life back! Starting the ITG Diet Plan has been the best decision I have ever made. No more cholesterol medication and I can run circles on the tennis court!
Cathy lost over 53 pounds and 27" overall!
- Cathy P., Memphis, TN
Stern Cardiovascular Center
I have nearly eliminated all of my health problems!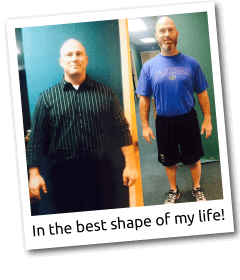 Being in the worse condition of my life I spent months undergoing tests for
doctors just to find out I had sleep apnea. After a friend of the family
referred me to Melita of Best Weight on You, I took a leap of faith with a different approach to my health. Melita saved my life. With her guidance and encouragement not only am I in the best shape of my life, but I have nearly eliminated all of my health problems just by changing my eating habits. I am wearing a jean size I haven't in years and feel just as good as I look. Thank you Melita for saving my life!
- Shay H., Altamonte Springs, FL
Best Weight On You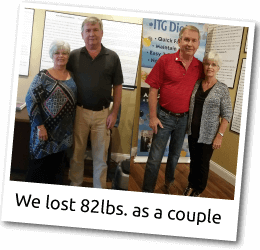 The ITG Diet Plan is not just a diet, but a way of life for us - it has been life changing!
After yo-yo dieting all my life, I finally found the program that works for me! I watched a co-worker and her husband successfully losing weight, but what impressed me more than the weight loss was that they looked healthy. That was the deciding factor for me, as I was so tired of being tired and feeling miserable. My husband and I met with our coach, Michelle, and started our journey together. The program is easy, the food is good - my favorite is the Marshmallow Hot Chocolate! I feel great, but most importantly, my health has improved tremendously. Having recently gone through chemotherapy and radiation, my body was a mess! I'm type 2 diabetic, and my A1C levels dropped drastically, 7.2 to 5.4 in 3 months, my cholesterol is down from 280 to 185. My liver functions had been extremely high for about 18 months following chemo; my doctor tried everything to get it down, and now my numbers are all normal. My doctors have been amazed at the results. I have lost about 45 pounds, 5 dress sizes, and lots of inches. I even got rid of my "fat" clothes, so I wouldn't have any reason to gain the weight back! I had kept them in the past "just in case" and "just in case" always managed to come back. The ITG Diet Plan is not just a diet, but a way of life for us - it has been life changing!
About 10 years ago, my wife was diagnosed with type 2 diabetes. So that our lives would be easier, I followed the diet plan she was on and lost 30 pounds. Unfortunately, I gained it all back… plus some! The ITG Diet Plan was much simpler, and the food was outstanding. I started at 210 pounds, and lost 2-3 pounds consistently each week. I initially set my goal weight at 185 pounds, but reached it and kept losing more! I amazed myself by the success I was having and stuck with ITG until I reached 173 pounds. People kept telling me I was getting skinny! My success came from finding ITG foods that I liked and stuck with them, which made the whole process very easy. I continue to monitor my daily water intake and am now better at drinking enough, since in the past I would drink very little. My coach, Michelle, always had positive things to say to keep me on track each week. My doctors are extremely pleased with my bloodwork results. Cholesterol, down; blood pressure, down; liver enzymes, normal. Overall, I feel so much better and life is good, once again! My wife and I began this weight loss journey together and with the two of us working toward being healthy, we made sure not to let each other down!
- Lois and Claus, Lady Lake, FL
Slim Down The Villages at RN Medical
I've lost over 30lbs. and feel great!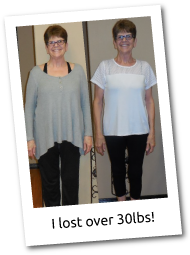 I started this journey when I realized I was failing trying to lose weight by myself and needed some help. I am a patient of Dr. Dwyer's and I saw the ITG Diet Plan information in the waiting room. I watched how Jodi, owner and coach at DC Wellness Center, had lost all her weight. I was so impressed with it because I knew how she had tried other things that didn't seem to work. I had a knee replacement surgery scheduled in a couple of months and wanted to lose weight before the surgery. I had never tried this kind of weight loss before and saw how well it worked for Jodi and thought, if it's good enough for her it sure is for me! You know what? It was! I've lost over 30 lbs. and feel great. My knee replacement surgery was a quick healing process. I learned how protein in my ITG products and whole protein (meat and eggs) were a huge part of my healing. It's helped me so much from the check-in time with Sherri to the one-on-one appointment time with Jodi each week. I'm so thankful for them and for ITG to be able to get to my desired goal! Thank you for the support that I needed to be successful!
- Sue M., Washington
DC Wellness Center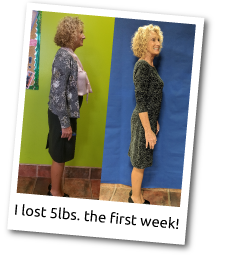 The ITG Diet Plan is easy, effective, and the food is good!
I've always been an active person; I like to swim, ride my bike, take walks, and even do a little running. While I have continued to engage in all those activities over the years, I found that my weight was creeping up and I seemed unable to get control of the amount I was eating. All those activities didn't seem to offset weight gain anymore.
I knew my weight had been going up over the past few months and I had a number of "diet false starts," cutting back on things I was eating but then falling off the wagon, only to give up. I've never been a slave to the scale, so I really had no idea how much I weighed. I knew it was higher than it needed to be and in fact, probably higher than ever.
I started a new job and was required to have a pre-employment physical. I went to the appointment and was asked to step on the scale. I was appalled at the number – it was the most I'd ever weighed in my life! As I was driving home, I saw Slim Down St Pete. I had passed by many times before. I resolved to make an appointment. I called, went in to learn more about ITG, and that's when things started to change. My coach Kaitlin was great – she shared the plan with me, explained how my choices of foods affect my metabolism, making me better able to burn fat. Wow, did it work - I was dedicated to the plan and lost 5 pounds the first week! Since then I have lost 32 pounds and have actually been maintaining under my goal weight! The ITG Diet Plan is easy, effective, and the food is good!
I've had more energy, I'm even more active than before, and I've been shopping like crazy for new form-fitting clothes! Without reservation, I highly recommend the ITG Diet Plan to anyone who is interested in getting healthier and losing weight. It works!
- Beverly F., St. Petersburg, FL
Slim Down St. Pete
This is by far the easiest program I've ever done and the food is delicious.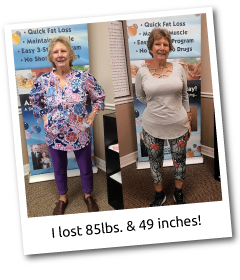 When I visited Michelle at RN Medical to find out more about how the program worked, of course, I was very skeptical and just didn't know if it would really be right for me. She explained how the program worked, the science behind it, and the food looked delicious. It made sense for me to try it. From the start, I wasn't hungry, and I had great energy about 3 days into the program. This is by far the easiest program I've ever done and the food is delicious. Everyone is noticing my weight loss and it's very motivating and empowering.
I was extremely motivated to start this diet and so glad I did. No other diet has had lasting results on my weight, my health, and taught me how to eat properly after I reached my goal. I was able to keep my social life and still go to restaurants, I just knew how to make better choices and stuck with meat and vegetables. The ITG foods are great, and my favorite go-to foods are the shake and pudding mixes and the oatmeals for breakfast. The cost fit into my budget just fine, and I have been feeling much better. I have lost 85 pounds and over 49 inches overall and I'm keeping the weight off!
I could not have asked for better support from my Coach Michelle who gave me motivation and encouragement all throughout my journey. Thank you so much for helping me achieve goals that I never even thought I could!
- Suzanne K., The Villages, FL
RN Medical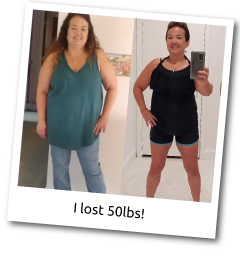 ITG works and I am living proof!
I just want to let everyone know how much I appreciate my ITG Coach Melita. She introduced me to the ITG Diet and IT WORKS! I am not a fan of diets, I've just found that they don't always work for me and I don't stick with them. Well... let me tell you something, ITG works and I am living proof! I love my result of being down 50 pounds. I started January 11th, we had a 6 week weight loss challenge contest and I thought, "I never win anything, so why even try?" Well, Melita talked me into participating and I accepted. AND I WON! It was a challenge to myself and I took it, ran with it, and discovered how easy this diet was. In September, I continued my transition into Step 3 of the program after losing 50 pounds and I feel better than ever. I'm proud of myself to have accomplished such a big feat and that I stuck to it. Just follow what your Coach tells you and check in for the encouragement and discipline needed to help you through the process. After you transition, your body and mind and everything you've learned helps to keep you on the path to being healthier and happier!
- Tammy B., Orlando, FL
Best Weight On You
I was able to consistently lose weight each week until I had met, and then even surpassed, my goal weight!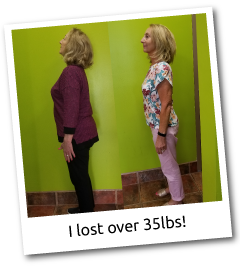 My weight had crept up a few pounds a year over the past several years. I finally reached a point where I knew I needed help to lose the extra pounds. That's when I went to Slim Down St Pete to try the ITG Diet Plan. With the assistance of the coaches at SDSP I was able to consistently lose weight each week until I had met, and then even surpassed, my goal weight! I initially wanted to reach 140, but got there very quickly! So I revised my goal again… and again… and got under 130 pounds! Just after meeting my goal, I was able to transition but went on a cruise. I was concerned I'd gain weight. Instead, I was able to make good food choices and I actually lost a pound on the vacation! To date on the ITG Diet, I lost 35.2 pounds and 36.5 inches overall, and now weigh 126 pounds!
- Janet S., St. Petersburg, FL
Slim Down St. Pete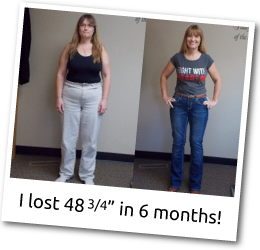 I have kept the weight off for over three years!
I started the ITG Diet Plan a few years ago. It was not my idea to lose weight, but my sister heard of ITG and a friend had told me about it. We went to a seminar about it and I decided what the heck! I have been on a few big-name diets, tried the grapefruit diet, and a low carb high fat diet... why not give this a shot?
After about a month, I could really feel the weight loss, and I was amazed! I quickly realized this was the program for me! The ITG Foods are really good and made packing my lunch fun and easy: "What was I going to have today? I have lots of great variety from ITG to choose from." I loved that each week I was continuously losing weight – sometimes a big loss, and sometimes a smaller loss, but my weight always kept going down.
ITG is super easy to follow! I'm not a big fan of working in the kitchen. I don't like to make meals that I have never heard of or try to keep track of calories. This program had it all laid out on one simple sheet of paper that made it easy for me to follow. If I did have questions, my ITG Coach Shawn was right there to help me. I could communicate with Shawn at any time of day, asking "can I do this or have that?" If I was feeling restless and wanted to eat, she was right there texting back and encouraging me. She has been AWESOME!
For my 50th birthday I wanted to reach a goal of 135 pounds. I went past that goal and ended up at 124 pounds on my big day! I was jumping up and down and almost cried! I have not seen that weight in years - I just didn't think it was possible. I felt wonderful. I lost over 35 pounds, but what really surprised me was that I lost over 48" from my body. I was finally fitting into clothing sizes I hadn't seen before.
One thing that has impressed me is that when I reached my goal, Shawn taught me how I can have my REWARD DAY, yeah!! I literally get to eat whatever I want within reason and I'm able to keep the weight off without gaining anything back. ITG really showed me how to keep it off. They help you figure out simple everyday meal plans before you are off the program. They go over what to have for breakfast, lunch, dinner, and for snacks when you are maintaining. I have kept the weight off for over three years!
- Julie F., Kalamazoo, MI
Simply Fit From Within
ITG made it easy for me to lose weight.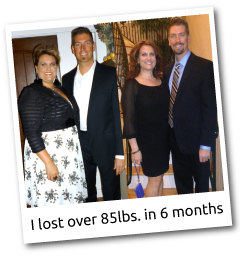 I had lost hope and had given up on losing weight. I was introduced to the ITG Diet Plan and began my weight loss journey in May of 2014. This introduction changed my life! I My husband, Dr. Chuck, is a chiropractor and we had been busy growing the chiropractic office for several years as well as raising three children together. As far as my health was concerned, I gained weight, had lost hope and was about to give up. I knew I needed a change of lifestyle that I could live with forever. ITG made it easy for me to lose weight, and in 6 months I lost over 85 pounds!
My husband and I were already doing wonderful things at the office and I decided I wanted to help others lose the weight they so desperately were trying to lose on their own. I became an official ITG Coach at our clinic and I can't imagine doing anything else! I love that I continue to see life changes in others every day, and I love seeing the confidence of my dieters grow as they get healthier and see their own successes. Being a product of change myself, I know that losing the weight taught me many things, including how to manage it for life, and I work every day to pass that on to others. I look forward to meeting more wonderful people and being a part of their healthy lifestyle change too, and maintaining my healthier new me!
- Jodi D., Clarkston, WA
DC Wellness Center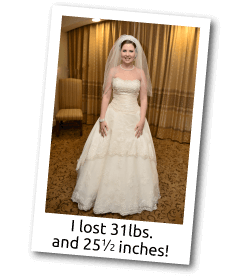 This is a life changing program.
First, let me start off by saying that Melita is the absolute best! She is such an encourager and is always there when you need someone to talk to – especially, if you want that piece of cake!. I was with her with another diet plan and when her clinic changed over I followed. There is something for everyone and in my quest to lose weight for myself and my wedding, I lost a total of 31 pounds and 25 ½ inches eating the products from the line that I enjoyed.
This is a life-changing program - once you are in the maintenance and start incorporating more foods into your diet, you still have to be conscious and realize that you can't have a cheeseburger morning, noon, and night and still keep the weight off. I'm not going to say that it was always easy every day of the week, but I wanted it bad enough to where not continuing the diet would leave me very dissatisfied.
- Brittany, Orlando, FL
Best Weight On You
I feel like a 10 year old again with all kinds of energy.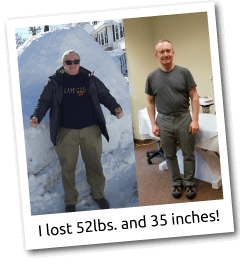 It is a great honor for me to provide this testimonial to the people and organization that helped me in literally changing my life, the ITG diet team. My coaches Joe and Tina are amazing, supportive and caring people who make time in their busy day to talk with you, provide encouragement, advice, support, and assist in any way possible to help you along your journey. With the ITG diet and all the support, I managed to lose 52 pounds, equating to a summary of 35 inches lost, all in a matter of 5 months!
As I look back at my journey to the weight loss, let me start at the beginning. It was May 26, 2015. I just got back from my yearly physical at the doctor's office. The news I got was less than stellar. My weight at that moment was 205 pounds, and at my heaviest since January, which was 211 pounds. Well, I was told not only was I obese, but I had hypertension and my blood sugar was abnormally high, classifying as pre diabetes. My blood pressure was 144 over 96, and this was resting. The discussion was medication alternatives, scripts and dosages. I asked the doctor that if I lost some weight, would this help, and forego the medications. He agreed, giving me 30 days, and wanted to see progress, or we start medication. I resorted to the only successful diet plan I was familiar with, and that was the ITG diet.
I made the call to ITG, and placed my first order. June 2, 2015 marks Day 1 of my new diet. I prepared for this moment as instructed, giving up coffee and hydrating much more than I was used to. I set a goal of wanting to get to a weight of 170, which meant losing 35 pounds. I knew it was going to be a process, and had to follow the plan exactly as designed. I had 2 salads a day, lots of vegetables, and ITG products, which were very tasty. I was actually eating MORE than I was used to, and drinking lots more water than I was used to, but I had faith in the process, and trusted that it would take some time. After a week, not resorting to my old ways of binge eating bad food, I knew I was going to make it.
On June 25th, I returned to the doctor weighing 189, shedding 16 pounds since day 1. The doctor was impressed, like the progress, and gave me another 30 days to try getting lighter. The follow-up that day showed a reduction in blood pressure and blood sugar. I was already feeling better, but knew I had a lot of work ahead. I started to enjoy cooking more, using the recipes that are on the ITG website. Joe and Tina talked to me every week, cheering me on all the way. I felt more determined than ever that I was going to reach my goal soon.
It was July 23rd, day 51 of my weight loss journey. I returned to the doctor again, only this time, I weighed 178 pounds, 27 pounds lighter than the first visit. We did the blood work, resulting in an A1C count of 5.7, and blood pressure reading 120 over 80. I did it! I got my numbers down, and without medication! This was an emotional moment for me and my family. The doctor was blown away and kept asking me how I did this, and kept telling him it was following the ITG diet, and doing it exactly the way it is spelled out. The doctor wanted to monitor my situation more, and wanted a 60 day follow up to make sure the numbers hold steady and I don't have a setback. I was fine with this, and kept following my plan. During this time, I stared down many of things, such as ice cream, pizza, and food that I would have binged on. I was on a mission, and owed it to myself to see it through and not give in, or give up.
September 22 rolled around and went into the doctor's office weighing 160 pounds, 45 pounds lighter than day 1. My blood pressure was 117 over 68, and did a glucose check, coming up 94. The doctor was stunned, not expecting that I would make such progress in short time. He said no patient of his ever lost weight like this, and still wanted to know if I was doing anything besides the ITG diet. I mentioned prayer, believing in myself, trusting the process, and knowing that anything was possible. Actually, my progress is about average for the results you can expect from the ITG diet. My weekly check ins with Joe and Tina proved invaluable during this time. My body was starting to change, losing inches and almost becoming unrecognizable. By this time, I was on Step 2 of the ITG plan. I also was more physically active, feeling more energy, feeling lighter.
It was November 2, 2015, 5 months after starting the ITG diet, and on that day I weighed 153 pounds. I haven't weighed this much in 20 years. My waistline dropped from a 38 to a 34. I felt better than ever. I felt like a 10 year old again with all kinds of energy. Feeling younger, looking better, feeling better, I have been doing different activities I gave up on many years ago. What amazed me was, when riding my bike, I started riding faster, harder, and liking it. I wanted to push my new body to see where it was, and made me reflect back on my college days, when I was last able to do what I did, and with such ease. In that moment, I realized not only did I exceed my original goal, but I have my life back in a very big way, and now the sky is the limit. Seize the day, seize the night, seize the moment. Anything is possible, even losing weight and making life choices that will better your life. Thank you once again to Joe, Tina, and ITG who helped me along the way, and celebrate your awesomeness!!
- Eric V., Boston MA
ITG Diet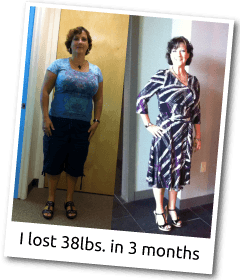 I have continued to lose weight and every day I am thankful to have found ITG.
Last spring found me frustrated with my inability to lose weight despite my active lifestyle (I teach Zumba, run, and do aerobic kick boxing) and eating a relatively healthy diet but love chocolate, cheese, and wine (who doesn't?). A friend of mine told me that her daughter had lost 40 pounds with ITG but I was reluctant to start a diet program. I was very frustrated because my weight kept going up despite my exercising. My level of frustration reached an all-high level when after three months of running I had gained 5 pounds. I was at my heaviest adult goal. Even heavier than when I was pregnant! I had a hysterectomy in 2010 due to a hormonal unbalance and I was at my wits end.
I did not want any pictures of myself even on vacation since I did not recognize my face or my body. My clothes did not fit and I was starting to feel self-conscious teaching Zumba because I did not feel great about myself. After thinking about it for a little while I tried to contact ITG but I got linked to a different website and got very bad service, no answers, or help of any kind. They charged me $300 and shipping and sent me a bunch of samples of foods (9 days of various foods), but did not give me any advice. I was very upset with them and contacted ITG. That is how I met one of the most supportive, wonderful, and intelligent people I know: Julie, my ITG coach!
From day one, Julie has been encouraging, patient, and supportive. I started training for a half marathon and could not stop either training for it or teaching Zumba despite the warnings for ITG regarding exercise. Julie was able to help me regulate my food intake to guarantee that my body would not go into starvation mode. My starting weight in June was 181.5 and by the time the half marathon rolled around, I was at 143.5! I improved my running time from 13+ minute miles to 11. I completed the mini marathon in 2 hours and 28 minutes! Did I mention I am 41 years old?
My favorite things about ITG are having access to ITG coaches, the ease of the meals, and the clear instructions on how to follow the program. It just takes commitment and a willingness to try it. I especially love the ready-made shakes and the bars. I have continued to lose weight and every day I am thankful to have found ITG. I strongly recommend the ITG program to anyone!
- Karen W., Sherwood, WI
ITG Diet
I have never felt so confident in my life!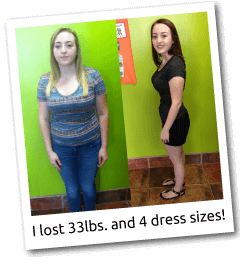 My weight had finally reached its highest, 154 pounds, and my self-esteem was at its lowest. I was so unhappy with what I saw in the mirror. I was done feeling that way about myself so I was ready for a change. That's when I began my weight loss journey on the ITG Diet at Slim Down St Pete. At first I was skeptical that I would be successful on this diet since nothing had worked for me in the past. I sure was wrong! The food was satisfying, the cravings were gone, the diet was easy to follow and the coaches were always available for support. I lost 33 pounds and went down 4 dress sizes! I no longer needed to hide behind baggy clothes and jackets. I don't hold my purse in front of my stomach anymore. I walk with my shoulders back and head held high. I have never felt so confident in my life!
- Kirsten C., St. Petersburg, FL
Slim Down St. Pete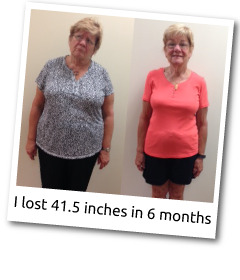 I'm feeling better inside and out! This has been an excellent diet for me!
I am a 63 year old, RN, working 36 hours a week in the hospital, 12 hour shifts.
I've always had issues with my weight. Been overweight most of my life, lost a few pounds and gained again. Felt as long as they made scrubs to fit me, it was alright.
I love to travel and one of my biggest fears was not being able to fit into the airplane seat, the seatbelt being too small and having to ask for the extension. was so uncomfortable, spilling over the armrests, wedged in and that little tray would not lay flat because my belly was in the way.
I saw the ITG diet sign in my doctor's office and wondered if it was something for me? I was back to buying plus size clothes and sad.
That's when I met lTG diet coach Jo-ann. She is more than a diet coach, she's been there, so supportive, great tips, encouraging and I feel so much more in control of my life! She is accessible, and makes it easy to order the meals via email for the week.
I have never tried a diet like ITG, one with packaged meals. But I am motivated. I like most of the meals, love that I can eat meat, salads, their snacks, chips, most vegetables and eat them at work and lose weight.
I'm feeling better inside and out. I am going on a big vacation, bike and barge through Holland for 2 weeks. I'm feeling fit, not afraid of that airplane seat, better portion control, making better choices and enjoying the clothes shopping this time. I'll have fun, eat, come back, weigh in and get back on track.
This has been an excellent diet for me!
Cherry has lost over 67 pounds in 6 months!
- Cherry S., Orlando, FL
Family Medical Center
My ITG coach helped me change my way of thinking about food.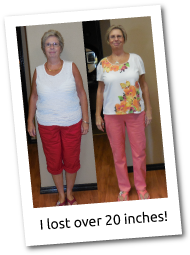 I started the ITG Diet on July 28th 2015, at 186.4 pounds. Walking into the building was probably the hardest part. ITG Coach Jodi helped me change my way of thinking about food. My first week I lost 3.5 pounds and 4.5 inches overall. I knew I needed to do this for myself, and I felt that the diet plan was easy to follow.
The positive attitude I had taken on helped me a lot. Jodi always made me feel good about every pound and every inch. Having some crunchy and tasty ITG Foods with my salads and sugar-free dressing made it easier for me to lose the weight and stick to the diet! Starting each day with an ITG Food instead of coffee or a bar, and lots of water really gets me going. I don't drink soda anymore, I drink a lot of water! I'm proud to say that I have lost 37.8 and over 20 inches. I did this in just 6 months! Please, try ITG for yourself. It works.
- Lona H., Clarkston, WA
DC Wellness Center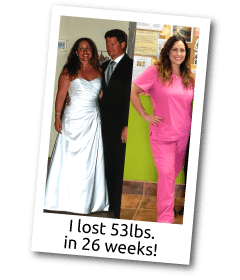 I wanted to feel sexy again for my wedding.
For most of my life, I have struggled with my weight. I started working at ITG Diet in 2010 around the holidays. Of course not the best time to start a diet but I was determined and knew that I had to practice what I preach as a Wellness Coach here. I finally stirred up enough motivation and willpower to do the plan and stick to it. The one thing that truly motivated me was my upcoming nuptials. I honestly did not even want to start planning the wedding until I felt better about myself much less get into a wedding dress. So I set off on my journey with ITG Diet and was able to average a 2lb weight loss per week. At times it wasn't the easiest thing because of social events and temptations but one thing I kept saying to myself was "it's only food". It will still be there when you are in your maintenance step and able to have a reward day. I kept my eye on the ball which was feeling "sexy again" and comfortable in my own skin without having to always wear big, baggy clothes or set my purse in front of my stomach when I would sit down.
It took me 26 weeks but I lost a total of 53 pounds and 7% body fat my BMI even went down 7.5 points. I actually went down 6 SIZES, I saved a whole box of pants that were my smallest size and I just went through it and put on every single pair one after another. Some of them were even too big! I feel like a different person and I have maintained my weight by eating smart with proper food combining on step 3 and exercising. The important thing is I retrained myself on how to look at food. I read every label on every food I eat and I know how important protein is now. Also how getting vegetables and fresh foods in every day is essential. I am living proof that the plan does work!!!
- Maria P., Palm Harbor, FL
Slim Down St. Pete
This is the easiest diet plan I have ever attempted.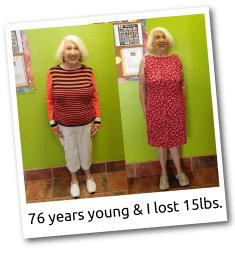 Just 102 days ago I had fallen and injured my right knee and the doctors told me I needed to lose 15 pounds. My daughter Tracy had recently started ITG Diet and told me how easy it was and she thought I would like it and be able to follow the diet. She was right! I had my original consultation with Joey, one of the wonderful Wellness Coaches at Slim Down St Pete & ITG Diet, he explained the program to me in terms I could understand. The food & supplements are great and affordable. I love all the food and am still choosing to eat ITG foods today. I look forward to my ITG pancake every morning for breakfast. I noticed I was actually saving money being on this diet, less trips to the grocery store. This is the easiest diet plan I have ever attempted, and I'm 76 years young, which means I have been at this for over 40 years. But now, finally success! I have reached my desired weight and am maintaining that weight. I recommend all dieters to try it!
Looking and feeling amazing!
- Rose S., Largo, FL
Slim Down St. Pete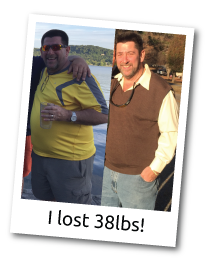 To date, I've lost 38lbs. and my wife lost 23.
Our company sent out a diet challenge using the ITG Diet Plan. I contacted my wife and told her I was going to participate. She asked if she could do it as well. Shortly after we started my wife was deployed to Louisiana to help with the flood victims. We both stayed focused using the ITG Diet and support they offered. My wife had to reorder to her hotel room and it went seamlessly. After being away from each other when we reunited we were both amazed. To date, I've lost 38 and my wife is down 23. The staff was helpful from day one and continue to check on us. I highly recommend the plan! Thank you for all your help. Especially Joe!
- Paul B., Huntsville, AL
ITG Diet
It is that good!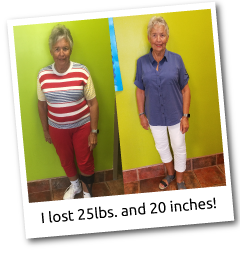 I have heard people say "I never felt so good," "it changed my life," "I have more energy now than I have in years," but I never really believed them. But it is true, the ITG Diet Plan actually does work. It worked for me, and YES it can work for you!
I am 77 years old and had just about given up on ever feeling good about myself. I never really wanted to get dressed up any more, nothing fit right and I was not happy about how I looked. I know the older you get the harder it is to lose weight, but it can be done and I did it. It all started when I attended an informative meeting about ITG, listened to others tell their story and tasted some food samples. It was now or never, I decided. I made an appointment and got my Starter Kit. The food was tasty and I really stuck with it! I was never hungry and I think it was partly because of all the water I was drinking. I seldom drank water before going on this plan… maybe a glass every couple of days, so this was a real transition for me. The weight started to come off and every week I lost those pounds. Joe, my coach, was absolutely great and encouraged me all the way. I lost 25 pounds and 20 inches, brought my cholesterol down from 211 to 116, in four months. People have asked me what I have done to lose weight and comment that no matter what they did they could not look as good as me. Others have said "It isn't right, you are looking younger and we are looking older!" Comments like this and encouragement from my family and friends kept me on track. I set my goal weight and even gave myself a schedule as to when I needed to meet those goals along the way, and it worked! Who can say it's hard to be on a plan that lets you have a chocolate shake every morning and a candy bar every night? ITG is a great plan and easy to follow.
- Vicky C., St. Petersburg, FL
Slim Down St. Pete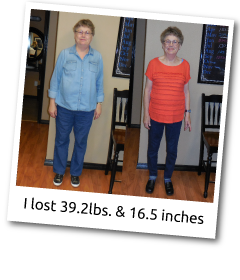 With the help of my coach, I was able to change my life.
My decision to go on the ITG Diet Plan was a wise one! With ITG Coach Jodi's help, I was able to change my life.
I was on the ITG Diet for 5 months and lost 39.2 pounds and 16.5 inches overall. I am a diabetic and as I watched my weight drop, I also watched my blood sugar and blood pressure numbers drop.
Although my husband did not follow the diet plan, he did actually lose 35 pounds, mainly due to the healthy meals we learned from ITG, which we cooked and ate together! My husband is also diabetic, and saw his blood sugar levels drop much lower. I feel so much better now that I actually initiate the walks my husband and I take together. If you are fully committed to losing weight and faithfully follow the ITG Diet Plan, you too can be successful in losing those unwanted pounds! The commitment to follow the plan definitely helps build your character too!
Both Coach Jodi and Sherri are the best; they provided me with such a good example to follow as well as a lot of motivation to help me successfully reach my goal weight.
- Judy M., Clarkston, WA
DC Wellness Center
ITG gave me quick results – it worked great!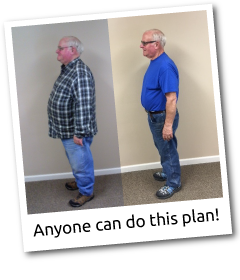 My weight loss journey with the ITG Diet Plan has been very successful for me. I needed to lose enough weight to take my blood sugar down to a manageable number. I am a Type 2 diabetic and was overweight. This has been a problem for me my whole life because I like to eat! I have tried many diets and they only work for a short time. When I found ITG it sounded like something I could do and find success with. This diet, or life change on what you eat, has helped me 110% on my weight loss and goal.
My weight was high enough to take my blood sugar to 10.6 on my A1C report. It should be a 7.0 or below for control. I developed back problems and needed surgery, but the doctors said they could not operate until I had my blood sugar A1C lowered and in control. I needed to lose weight. ITG has helped me achieve that goal. After 3 months on this diet, my blood sugar is in control and my A1C is now 6.2. My doctor is very happy. My back surgery went very well.
The ITG Diet Plan, along with my coach Shawn, has shown me how to control my intake of carbs and fats with the plan and the coaching I received from Shawn at Simply Fit From Within. My weight goal for the rest of my life will be a lot easier knowing what I have learned through ITG. Anyone can do this plan if you set your goal to do it. ITG gave me quick results – it worked great. I recommend ITG to anyone who is serious about helping themselves to improve their lifestyle, and to those who have a goal to lose weight and keep it off for life!
- Richard O., Kalamazoo, Michigan
Simply Fit From Within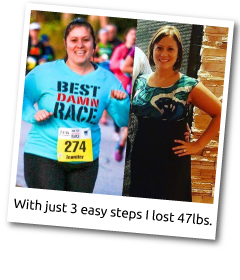 I still can't tell you my absolute favorite ITG food product because they are all just so delicious!
My weight-loss journey began during summer of 2015. I was extremely busy helping my mom take care of my father who was in and out of the hospital and I just couldn't find the motivation or time to help myself get healthy because I had let myself get so big without even realizing it. My father was very worried about my health and wanted me to do something so that I could get healthier and feel good about myself. When I found out about ITG at M.D. Complete Fitness my father financially helped me so that I could make the change and live a healthy lifestyle. The program was great! It was laid out for me so that I didn't have to count calories or enter them into an app. The food was even better; it always kept me full. Till this day, I still can't tell you my absolute favorite ITG food product because they are all just so delicious! With just 3 easy steps I have reached my goal of losing a total of 47 pounds! I feel better than ever and have improved my 5K & 10K running times. I have so much more energy, motivation, and discipline. I eat to live, instead of living to eat. I continue to weigh in here and there and purchase my delicious ITG snacks and vitamins on the regular. All of this would not be possible without the help and guidance that I received from my excellent coach, Alissa! Thank you ITG for helping me change my life for the better!
- Jenn F., Trinity, FL
MD Complete Fitness
ITG has been such a great surprise; the food is great, the program educational and the coaching is always available.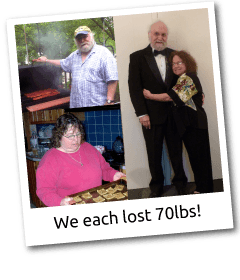 We were determined to finally get our weight off after maybe 20 years of just being fat. Dieting was always too hard and never worked for long. I am 60+ years old stand 4ft 7in. tall and had gotten to 188 lbs. Joel was 259 lbs at about 5ft 11in. We were happy but not comfortable in our skin anymore, pictures proved it. My knee replacement doctor was not happy, nor was I; knees hurt, hips hurt, walking hurt. Sometimes when I went upstairs at night to change clothes I just wouldn't come down.
Not only did we 'feel' terrible but our blood work also reflected our situation; both us had high cholesterol and high blood pressure. We both had terrible acid reflux which kept us each up at night. I am thrilled to say the reflux was gone within the first month on the program. Our cholesterol and blood pressure numbers continued to fall. Best of all neither of us snore at all anymore!!!!
Neither of us had any stamina to speak of and we had reached that point of knowing that our weight would be the reason we left our girls prematurely. We are blessed with two daughters who work in the health & wellness industry and one with ITG. We were the first ones she thought of helping. We started the ITG program the end of January 2011. Deciding to start a program has been the hardest and easiest decision we have made in a long time.
ITG has been such a great surprise; the food is great, the program educational and the coaching is always available. The program teaches you how to lose and then to maintain your loss in such ways that you don't feel that you have to deny yourself your favorite foods. Today I weigh 116 lbs and my husband is at 190, it's all about making better choices, and we choose to be healthier from now on!! This is truly our last diet!
- Joel & Nancy, Missouri
ITG Diet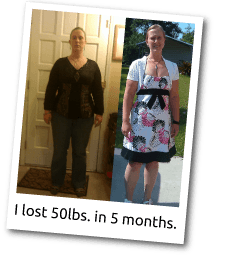 I would recommend ITG to anyone, especially someone trying to overcome diabetes!
I was determined to make it through the 2010 holidays without gaining anymore than just time with my family and maybe a few presents. I got the best gift of all when my mom and family offered to pay for me to start ITG, a program that one of her friends was doing and had been very successful at. So the week before Thanksgiving I started the ITG program and during the week of Thanksgiving, I actually lost 8 lbs. Currently, I have successfully stayed off Metformin for my diabetes, I have had normal blood sugars since starting the program and can't wait for my check-up in April with my endocrinologist. I can't wait to see how my A1C has come down as my weight continues to come down!!! I have gone from a size 22 to a size 10 and still have some pounds to go!!! I am totally thrilled with my success so far and really look forward to hitting my goal. I would recommend ITG to anyone, especially someone trying to overcome diabetes!!!
- Michelle, Lake City, FL
ITG Diet
I have not felt this good in more years than I want to remember.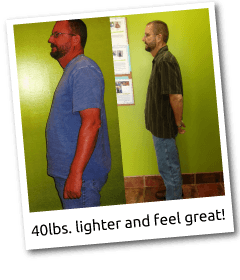 40 lbs. lighter and feel great!!
I started the program in July 2012 with the goal of losing 30 lbs. Not only did I reach my goal in roughly 3 months, I lost 40 lbs.! I dropped from waist size 38 to 36. Prior to starting the plan I could not walk up a flight of stairs without getting winded. Now I run up the stairs! I have not felt this good in more years than I want to remember. Yes, I did try losing weight twice by doing less than 2000 calories a day. The first time I lost 10 lbs. in 6 months and quickly put the weight back on. The second time I lost 5 lbs. in 3 months and gave up. Since I entered Step 3 of the Slim Down St Pete / ITG program I have maintained my weight at around 204 lbs. I have simply followed their recommendations listed in the plan to help maintain my weight at my desired level. I would highly recommend this program to anyone. All you have to lose is some weight!
- Randy, St. Petersburg, FL
Slim Down St. Pete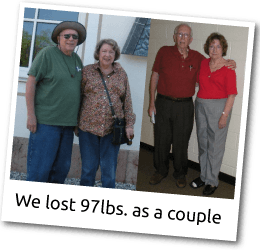 We never had any bad effects from the diet and rarely were we hungry.
We first heard about the ITG / ITG Diet from our son and daughter-in-law, probably sometime in December or early January of 2012. They had started it sometime before then, had gotten off and then re-started. They had both lost some pounds and inches and told us how much better they felt. As our clothes were getting to the point that they would hardly fasten, both Joan (Mary) and I decided we had to do something, so we contacted Julie Ray of ITG Diet. Julie did her intro part and then we had the interview for the start of the diet. We had decided that if we were going to "do" this thing, we were going to stick to it as religiously as possible and so in February of 2012, we placed our first order for ITG materials.
We've pretty much kept to the letter of the rules, finding out that 2 cups of veggies at two meals per day became a challenge! Over the next 6 months [2-15 > 8-10] Joan (Mary) lost 36 lbs., and Bob lost 61 lbs. We are now on a maintenance regimen and so far, so good. Bob has lost 5-6 inches in waistline and his knees are certainly in much better shape than they were. Also going upstairs is so much easier not having those 12 five-pound bags of sugar on his shoulders. Another plus is that we both have had to acquire new wardrobes. It was encouraging to have access to Julie, our ITG coach when we had questions and she also provided encouragement when we had those weeks where we didn't lose as much as we thought we should have.
We never had any bad effects from the diet and rarely were we hungry. It works (and in a timely manner) and so far, for us, not like some other diets we've been on before, we are in the "groove' of what we should and shouldn't eat and hopefully we'll stay there.
- The Baldwins, Palm Bay, FL
ITG Diet
Within a year I lost 140 pounds and came off 8 medications.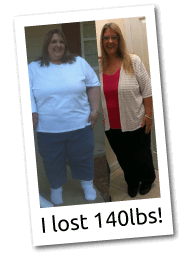 First, let me say how thankful I am to God for sending my mother-in-law and Lori Hudson to intervene and help me get my life back. I was literally sitting on my couch dying and taking a large bag of medication just to exist. I was introduced to ITG diet plan that has given me my life back. Within a year I lost 140 pounds and came off about 8 medications. I highly recommend this to anyone needing to lose weight, feel better, get off medications and start to enjoy life again.
- Lisa B., Georgia
Temple Medical Clinic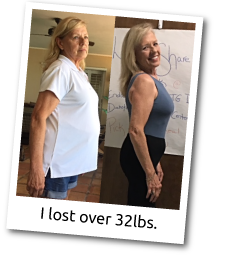 I feel great and my health has improved tremendously!
I could not be happier or more thankful that I chose the ITG Diet Plan to help me on my journey to conquer unwanted weight gain in my senior years! In three months I lost over 32 pounds and dropped 4 dress sizes. I feel great and my health has improved tremendously! I knew I needed a clear-cut program with easy-to-follow daily meals that tasted good, were nutritious, and included a coach for support, information and guidance. Melita, my coach, was fantastic! Not only did she have a wealth of information to share on helping me make the right food choices, but she also provided open communication, support, and encouragement all along the way! Thank you Melita, and the Diabetes and Endocrine Center of Orlando, for helping me be very successful on my journey!
- Karen L.
Diabetes & Endocrine Center of Orlando
I not only look better, but I feel better!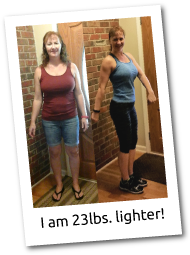 The ITG diet has taught me a system of eating that optimizes weight loss and balanced nutrition. For years I didn't understand the relationship between eating enough protein at regular intervals for maximizing fat burning. I not only look better, but I feel better. There is less inflammation in my joints and less fat to carry around, which means less toxins and less pressure on my joints. I fit in my jeans from 15 years ago with room to spare. I am 23 pounds lighter!
- Colleen W., Marietta, GA
Wood Family Chiropractic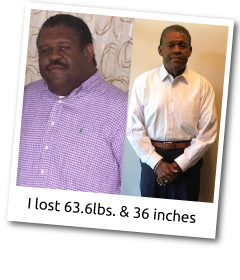 Thanks to God, my wife and my awesome coach, Joe, I have changed my life!
I was in a rut with my overall weight, and on two blood pressure medications. I was introduced to ITG by a friend and was very skeptical. I read the literature on the website and decided to give it a try. To my amazement, the foods were delicious and the plan was very easy to follow. My coach, Joe, is very knowledgeable and easy to communicate with. I consider Joe a friend, not just a coach. He has been with me from the start on this journey. My wife, Michele, has also been very supportive and has provided constant encouragement along the way. To date, I have lost 63.6 pounds, 36 inches and stopped taking both of my blood pressure medications! I also suffered from sleep apnea, but have now been cured. I have not felt this good in over a decade! I have also had the privilege of purchasing a new wardrobe. I could not be happier and excited with my life change!
- Glenn M., Midland, GA
ITG Diet
My doctor took me off my blood pressure medication!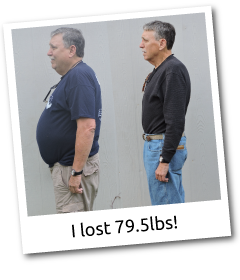 I had been overweight for over 30 years when I first heard about ITG. Over the years, I have tried several diets to lose weight – I lost some, but with most of these diets I always gained back what I had lost.. and sometimes more. I think the diets failed because none of them taught me how to eat and live a healthy lifestyle.
When I started ITG I weighed 267.5 pounds. For the last 2-3 years, I had been having problems with my knees hurting, which was making it difficult for me to enjoy time with my grandchildren and other physical activities. I have also been taking medication for high blood pressure for over 30 years.
I started the ITG Diet Plan on June 5th, 2017. It took about two weeks for me to determine which ITG foods I preferred and that fit my lifestyle. My goal weight was 190 pounds. It took me 5 months and 2 weeks to reach that goal. On November 20th, 2017, I weighed in at 188 pounds – 2 pounds below my goal! My total weight loss was 79.5 pounds! During the time I was on the plan, I attended my 50th high school reunion (a three-day trip), went on a four-day fishing trip, and attended two separate family reunions – several days each out of town with an early Thanksgiving Dinner. Even with all my traveling and time away from home, I still lost weight every week. I also was able to go out to eat once each week while I was on the plan, making healthy choices each time.
After losing the weight, my knees no longer hurt and I am more active than I have been in a long time. Best of all, on November 13th, my doctor took me off that blood pressure medication.
I am now in Step 3 of the ITG Diet Plan and feel very confident that I am learning how to eat properly so that I can maintain my new, healthy lifestyle and keep the weight off for life.
- Don B., Alabama
ITG Diet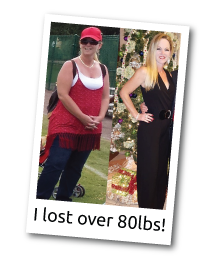 Not only was it very easy to follow, but also the food was delicious and satisfying!
My story is not much different from many others.  I am 46 years old, a wife and mother of two wonderful kids. Like many others, I got married, I was focusing on our marriage and building our life together. Before I knew it, the weight gain was happening. I gained even more weight after my first child was born, and never lost it.
I was grateful to be a stay-at-home mom to focus on my family and raising my children, but I began to realize I lost myself and it physically showed. In 2007 I decided to reel myself back in and focus on losing weight and getting in shape. I joined a fad diet program and lost 80 pounds pretty quickly. After a few months I began to gain the weight back. No diet programs seemed to be working for me.
In February of 2016 I felt out of control. My weight had increased to 201.5 pounds and I was wearing a size 18/20. I wasn't getting any younger, I felt terrible, my body ached, my back hurt… and that was my turning point! I felt like I was missing out on so much and there were so many things I wanted to do. It's not about how a person looks on the outside, but how they feel on the inside.
That same month I began my journey with MD Complete Fitness, an ITG Clinic to lose weight and live healthier. In my first visit with my amazing coach Kelly, she asked to take a "before" picture of me. I was stubborn and said "no way!" I was afraid of failing like I did on other weight loss programs. I soon learned that ITG was different in a positive way. Not only was it very easy to follow, but also the food was delicious and satisfying! Plus, having a personal coach to guide and encourage me was reassuring and helped me be successful in reaching my weight loss goal!
"Before" Weight – February 2016: 201.5 lbs. size 18/20
"After" Weight – February 2017: 121 lbs. size 2 – my success continues!
- Michelle M., Trinity, FL
MD Complete Fitness
ITG did all of the nutritional thinking for me.
Life happens and the weight creeps on. But how do you lose that weight when you've formed some bad nutritional habits? ITG has been the solution for me!
ITG did all of the nutritional thinking for me. I knew I was getting all of the necessary nutrients to stay strong and still lose weight. By following the program, I was also able to learn how to eat smaller portions and be satisfied! I lost 51 pounds in seven months, 10% body fat and dropped 4 dress sizes. The best part is that I have maintained my new weight for five months now! The Step 3 Maintenance portion of the ITG plan is key to staying at my goal weight. My coach Jessica was super too! She had tips and suggestions for me when I hit plateaus and was always available to answer my questions. Thanks ITG!
- Rebecca B., Valparaiso, IN
Prima Bella Women's Health
My before and after pictures are worth ten thousand words!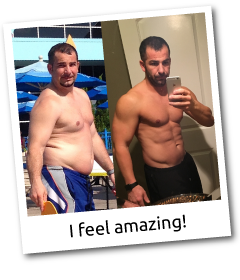 Year after year, New Year's Resolution after New Year's Resolution with the same result. No change. No weight loss. No progress. I finally decided to try something new. Dieting with Your Loss Your Gain has been a revelation. A picture is worth a thousand words! My before and after pictures are worth ten thousand words! The ITG Diet works! Enough said. I feel amazing! I cannot thank my coaches Ryne and John enough. The program has been life changing, seriously. I was skeptical after years and years of trying to get healthier on my own and instead somehow kept gaining more weight. Everything Ryne told me the first time we met has happened. Every week on the diet I felt better and better. I was not hungry. My sleep improved. Obviously, I lost a crazy amount of weight (53 lbs.). Something Ryne told me early on resonated. He told me that momentum is usually either moving in a healthy direction or unhealthy direction.
Indulging always leads to more indulging, which usually leads to weight gain. I treat sugar as the enemy of my health. The more weight I lost, the better I felt. The more I worked out. The more I wanted to eat healthy. Ryne was 100% correct in what he taught me. The more I work at being and feeling healthy, the easier it got and the more I wanted to continue.
- Marius G., Chicago, IL
Your Loss Your Gain
ITG will show you...
How to Eat Right
How to Get Healthy
How to Feel Better
How to Gain Confidence
How to Lose Weight
Visit The ITG Science page to learn more or email one of the ITG weight loss coaches at info@itgdiet.com today.
At ITG, your weight loss success is our goal. We provide you with the necessary tools to achieve the nutritional balance and weight loss you deserve.
How to...
Get Started
Contact a Weight Loss Coach
Track Your Progress
Make a Shopping List
Find Recipes