ITG Potassium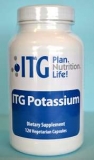 This uniquely formulated potassium product is composed of potassium bicarbonate. Potassium deficiency symptoms include fatigue, lethargy, cramping or heavy legs and the feeling of depression.
Potassium Chelates are useful in the nutritional support of hypertension, leg cramps and heart health, and is recommended for people who are on ketogenic and low carbohydrate diets, which can often cause significant potassium loss and low energy.  Long distance runners or rigorous exercisers would also benefit since they quickly deplete their potassium levels.

CAUTIONS:
Use caution if pregnant or nursing.  WARNING: If you are taking a Potassium-Sparing Diuretic prescription drug DO NOT TAKE SUPPLEMENTAL POTASSIUM.  If you have kidney disease you should discuss potassium bicarbonate supplementation with your physician before use.  Do not reduce your dose of anti-hypertensive drugs or discontinue them without your physician.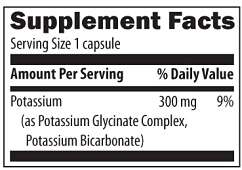 Other Ingredients: Microcrystalline cellulose vegetable stearate.
  Servings per container:  120   Vegetarian Capsules