Welcome to ITG!
The ITG Diet Plan is an easy to follow, 3-step nutrition program designed to get you into a light state of ketosis quickly and efficiently. By utilizing our higher protein meal replacements along with whole foods each day, you will finally achieve the results you so richly deserve!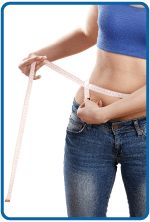 It's all about science! The ITG Diet Plan isn't just another yo-yo diet plan with no end in sight for you. Our experienced team of coaches provide you with the necessary training to educate you on how the foods you eat react in your body, causing you to retain or lose weight. That's the ITG difference!
With the ITG Diet, you will lose weight and keep it off for two reasons. First, unlike many other diet programs out there, you'll shed fat instead of muscle mass. And second, our focus is on teaching you how to make better eating choices rather than simply eliminating fun foods from your diet forever. You can finally keep that extra weight off for life!
Are you always on the go? Do you travel for work? No time for a sit-down dinner? No worries! Almost all the products in our line of ITG Foods are airline- and travel-friendly. They can be prepared quickly and easily on the road if necessary. ITG Coaches will be there every step of the way to provide you with tips, education, and the support you need during your weight loss journey. You can even be our next Success Story!
Get Started Today! 
Are you looking for an ITG Clinic near you? We are always adding new clinic locations across the country.
You may even be eligible for our online program!
To connect with an ITG Specialist, please call us directly with your questions at 1-866-544-8444, Monday through Friday from 8:30 am to 6:00 pm Eastern Time.
If you are a medical professional or existing weight loss clinic and would like more information about offering the ITG Diet Plan to your patients, please click here or email laurel@itgdiet.com.
TRY ONE OF OUR BEST SELLERS TODAY!
Comprehensive Chiropractic
Haymarket, Virginia

During his years in practice, Dr. Obetz has enjoyed building strong relationships in several communities in Tennessee, New York and now in Virginia. He has helped countless patients realize the value of a healthy lifestyle. He has treated many elite level athletes at the college, professional, and Olympic levels.  Most recently, Dr. Obetz worked with Noah & Josephus Lyles, two Olympic caliber sprinters from northern Virginia who recently turned pro. Through his work with hundreds of patients over the years, Dr. Obetz has recognized the importance of good nutrition and maintaining a healthy weight. He is a firm believer that everyone can function at an optimal level with proper nutrition and exercise.
Rather than simply treating conditions and prescribing medicines, he recognizes the importance of spending time with a patient to identify the root causes of any issues and develops a personalized plan to get them back to optimum health. Good nutrition and exercise are always a part of these personalized plans.  Dr. Obetz therefore incorporates the ITG Diet Plan in his office as one of the many ways he helps his patients achieve whatever levels of health and performance that they desire.
Kara Gallagher, D.C. oversees the ITG Diet Plan at Comprehensive Chiropractic. During her own search for weight loss, Dr. Gallagher saw the value of identifying a diet program that takes a holistic approach towards weight loss and ultimately lost over 40 pounds. This personal experience, coupled with her education and qualifications in holistic healthcare, makes her an ideal coach working with Dr. Obetz. She is very excited to be able to help not only current patients in the practice, but also anyone from the community interested in weight loss as part of a healthier lifestyle.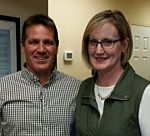 Dr. Doug Obetz & Dr. Kara Gallagher