Vinegar Dill Sliced Cucumbers
Difficulty




Category:
Vegetable Dishes
-
Rating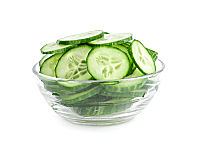 Ingredients
For 2 people (


)
Recipe
1

Long thin cucumber - like a hot house or European

1.25

cup(s)

Rice wine vinegar

0.5

cup(s)

White vinegar

0.5

cup(s)

Olive Oil

Fresh or dried dill weed and sea salt to taste
Vinegar Dill Sliced Cucumbers Directions
Put the cucumber in a food processor or slice thin rounds with a knife or mandolin.

Put cucumbers slices in a Tupperware bowl with rice wine vinegar, white vinegar and olive oil

Sprinkle lots of dill weed fresh or dried and some sea salt.

Place in fridge to chill…ENJOY!