ITG Recipes for Steps 1-3
Feel free to enjoy the recipes here that can be used on the ITG Diet Plan.  One of our coaches has looked at, approved and most of the time has cooked the recipes we are sharing here.  We did not invent all of these recipes and will try to credit the author when provided.  Plan accordingly depending on the step of the plan you are on.  If you have a recipe you would like to share please send it to us!
Want to keep a list of your favorite ITG recipes handy? Logged in users can click the heart

next to the recipes that you love and then return later to view them again in your favorites list here.
Zucchini Latkes
For All Stages of the ITG Diet Plan
Difficulty




Category:
Vegetable Dishes
, Holiday Dishes
-
Rating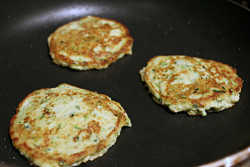 Ingredients
For 1 people (

)
Recipe
1

Zucchini

2

Whole Eggs

1

teaspoon(s)

Minced Garlic

1

pinch(es)

Sea Salt

1

pinch(es)

Ground Black Pepper

1

pinch(es)

Cayenne (optional)

1

pinch(es)

Cinnamon (optional)
Zucchini Latkes Directions
Grate the zucchini.

You can use a food processer, and pulse it until they are the right size.  Go easy to keep a rough texture.

Mix in the eggs, garlic, salt, pepper and cayenne.

Turn on frying pan to medium heat. Add oil.

Add small pancake sized amounts onto the pan and let it sit for about 45 seconds and check to see if it browns, flip.

Enjoy! Credit Recipe & Photo: HappyChomp.com


Your comments on this recipe (
1

)





by
bjordan
, on Tuesday, 26 July 2016
Tried it with squash and cinnamon and it's awesome!