ITG Recipes for Steps 1-3
Feel free to enjoy the recipes here that can be used on the ITG Diet Plan.  One of our coaches has looked at, approved and most of the time has cooked the recipes we are sharing here.  We did not invent all of these recipes and will try to credit the author when provided.  Plan accordingly depending on the step of the plan you are on.  If you have a recipe you would like to share please send it to us!
Want to keep a list of your favorite ITG recipes handy? Logged in users can click the heart

next to the recipes that you love and then return later to view them again in your favorites list here.
Shrimp Scampi with Zucchini Noodles
For All Stages of the ITG Diet Plan
Difficulty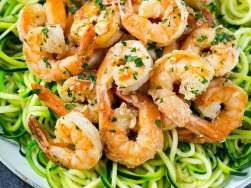 Ingredients
For 4 people (




)
Recipe
1

pound(s)

shrimp, peeled and deveined

1

shallot peeled and sliced

4

garlic cloves minced

cup(s)

spiralized zucchini, or 2-3 packages frozen

0.5

teaspoon(s)

crushed red pepper

1

teaspoon(s)

sea salt

1

teaspoon(s)

black pepper

0.25

cup(s)

chicken broth

2

tablespoon(s)

lemon juice

1

tablespoon(s)

freshly chopped parsley for garnish

3

tablespoon(s)

olive oil
Shrimp Scampi with Zucchini Noodles Directions
Heat zucchini noodles (can microwave if frozen, or sautee with 1 tbsp olive oil in a pan).

At the same time, heat 2 tbsp olive oil in another pan over medium-high heat. Add sliced shallot, minced garlic and heat until fragrant, or for 2 minutes. Stir occasionally so it does not burn.

Add shrimp and sprinkle with crushed red pepper, sea salt and pepper. Sautee shrimp for about 4 minutes or until pink on both sides.

Add chicken broth, lemon juice, and stir to combine. Allow the mix to continue cooking for one more minute to a boil and then remove from heat.

Gently stir in zucchini noodles to coat evenly. Divide into 4 portions, sprinkle with parsley flakes.

Serve immediately and enjoy!
Your comments on this recipe (
0

)