ITG Recipes for Steps 1-3
Feel free to enjoy the recipes here that can be used on the ITG Diet Plan.  One of our coaches has looked at, approved and most of the time has cooked the recipes we are sharing here.  We did not invent all of these recipes and will try to credit the author when provided.  Plan accordingly depending on the step of the plan you are on.  If you have a recipe you would like to share please send it to us!
Want to keep a list of your favorite ITG recipes handy? Logged in users can click the heart

next to the recipes that you love and then return later to view them again in your favorites list here.
The "Hansburger"
For All Stages of the ITG Diet Plan
Difficulty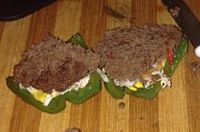 Ingredients
For 2 people (


)
Recipe
1

pound(s)

extra lean ground beef

2

large green bell peppers, halved

2

cup(s)

shredded cabbage

1

clove garlic, minced

sea salt and black pepper to taste

8

slices dill pickle

2

tablespoon(s)

mustard

2

tablespoon(s)

Walden Farms Amazin Mayo

dash(es)

lemon juice
The "Hansburger" Directions
Preheat oven to 350 degrees.

Place cabbage in a bowl and mix with sea salt, black pepper, dash of lemon juice and Walden Farms Amazin Mayo. Place in refrigerator to keep chilled during next steps.

Cut 2 green peppers in half and remove seeds. Place open side up on baking sheet and bake in oven for about 15-20 minutes, or until peppers begin to soften and slightly brown on skin and edges.

While the peppers are baking, in a bowl, mix hamburger meat, sea salt, black pepper, and minced garlic. Form into 4 small patties. Cook in skillet or on grill to desired temperature.

Remove peppers from oven. Place a layer of cabbage mixture, pickles, then burger patty on top. Drizzle with mustard and enjoy. Add a salad, and this dinner includes 2 cups of veggies and up to 8 ounces of protein each for 2 people for a Step 1 approved entree!

Recipe idea and photo courtesy of Hans Ryan Hackenbruch from Core Fitness Studios, the ITG Diet Clinic in Jamaica!
Your comments on this recipe (
0

)