ITG Recipes for Steps 1-3
Feel free to enjoy the recipes here that can be used on the ITG Diet Plan.  One of our coaches has looked at, approved and most of the time has cooked the recipes we are sharing here.  We did not invent all of these recipes and will try to credit the author when provided.  Plan accordingly depending on the step of the plan you are on.  If you have a recipe you would like to share please send it to us!
Want to keep a list of your favorite ITG recipes handy? Logged in users can click the heart

next to the recipes that you love and then return later to view them again in your favorites list here.
Baked Pumpkin and Sweet Potato Soup
For Step 3 of the ITG Diet Plan
Difficulty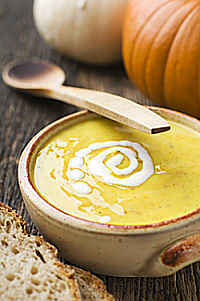 Ingredients
For 10 Servings(s) (










)
Recipe
1

acorn squash

1

medium pumpkin

2

large sweet potatoes

2

14oz cans coconut milk

2

14.5oz cans low sodium chicken broth

1

lime, juiced

1

pinch(es)

ground ginger, or to taste

sea salt and black pepper to taste
Baked Pumpkin and Sweet Potato Soup Directions
Preheat oven to 375 degrees.

Puncture acorn squash and pumpkin in several places using knife. Wrap sweet potatoes in aluminum foil. Place squash, pumpkin and sweet potatoes on baking sheet.

Bake in oven until pumpkin begins to cave in and the skin browns, about 2 hours.

Remove skin and then chop the sweet potatoes. Skin, seed, and chop the pumpkin and acorn squash. Place all in large pot and mash until smooth. Stir in coconut milk until fully mixed, reserve 1/2 cup for garnish, then stir in chicken broth. Season with salt, pepper, lime juice and ground ginger.

Cook over medium heat until heated through. Serve with lime wedge and drizzle of coconut milk.

Recipe courtesy of allrecipes.com.
Your comments on this recipe (
0

)