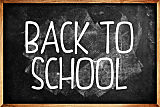 ITG Step 3 Success For Life style.
Summer is fun times, most of them not including healthy eating. A cheat here and a cheat there shouldn't make too much difference in my weight. As summer comes to an end and all the kids go Back to School it's time for us to Get Back to Basics. …The Healthy eating basics!
We all have heard the saying "you are what you eat" and if we have completed ITG Step 3 Success For Life we should have learned the truth in that statement. Here's to getting Back to Basics on Step 3, Success For Life!
Continue reading