ITG Diet Blog
The ITG Diet blog delivers informative weight loss tips, health resources and nutritional information to help you along your weight loss journey.
Run Across America Update!

Darren Kavinoky has reached Phoenix, Arizona! Darren has completed 434 miles since leaving the Los Angeles, California area. 2,624 miles to go until he reaches New York City and completes his run on the Jimmy Fallon Show!
ITG Diet is providing Darren and his team with plenty of ITG Chocolate, Coffee, and Vanilla Shake Bottles to make sure they get their healthy proteins in each day. You can order these three shake bottles for a limited time, and portions of the proceeds will be donated by ITG Diet to diabetes-related charities! Join the cause by posting your daily health and weight loss wins to the ITG Facebook and Twitter by using the hashtag #WhatsMyWin and @ITGdiet. No win is too big or too small! Have you gotten in all your water today? Ate your minimum four cups of vegetables? Beat your step count record? Share your win with us and then head to WhatsMyWin.com and register to spin the prize wheel to win great prizes from ITG and many other sponsors of the Run Across America!
Watch his interview with Phoenix TV Channel 3 News to hear about his travels so far, and stay tuned to ITG Diet for more updates on Darren's Run Across America!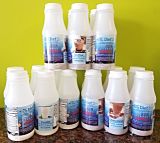 #WhatsMyWin @ITGdiet