ITG Cal/Mag - One Month (60ct)
Description
ITG Cal/Mag 30 Day Supply (60ct)
When in balance, calcium and magnesium play vital roles in many areas of human health. Calcium is crucial for muscle contraction, proper blood clotting, wound healing, the secretion of hormones and enzymes, nerve transmission, the building of strong bones and teeth, and for inhibiting the build-up of lead in the body.
Magnesium, one of the most critical minerals in the human body, is involved in hundreds of enzyme reactions and plays a pivotal role in muscle relaxation, energy production, heart health, maintenance of proper blood pressure and in helping to prevent the accumulation of aluminum, a toxic metal implicated in many common degenerative neurological disorders.
In summary: Calcium is necessary for muscles to contract, while magnesium is needed for muscles to relax; calcium works to simulate nerves, while magnesium calms the nerves.
You can view the cart after login
Check out these favorites of the ITG members.
Stern Weight Loss Center
Germantown, Tennessee

Stern Cardiovascular Foundation has a long history of achieving excellence in medicine, research and patient care. In order to remain true to our mission, Stern Cardiovascular introduced the Stern Weight Loss Program. Since its inception, the program has been a resounding success! With clients losing anywhere from 20 to over 140 pounds (yes, that's right!) the Stern Weight Loss program has a real and lasting impact on the overall health of those who are willing to make the change!
Supported by an organization of well-respected cardiologists, the Stern Weight Loss Center has left its mark on the Mid-south. Voted "Best Weight Loss Center" in 2016 and 2017 by the readers of the Memphis Commercial Appeal, the Stern Weight Loss Center lets our results speak for themselves. The keys to our success are our caring and compassionate coaches and staff. These coaches stick with our clients through thick and thin to help them achieve and maintain a new, healthy lifestyle.
We accept the following payment methods: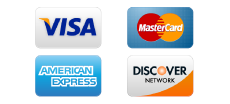 You can shop at ITG with confidence:
Credit Card Processing